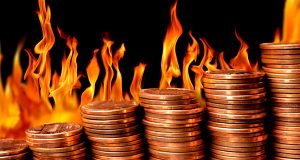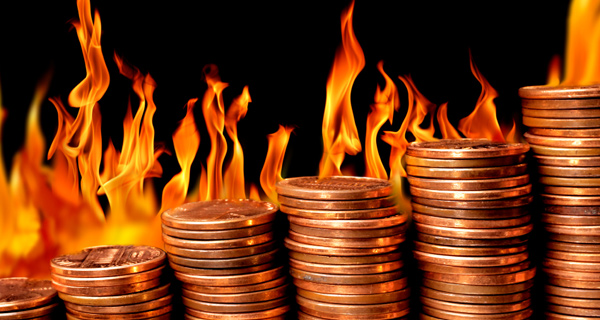 It's an exciting time for penny stocks, especially hot penny stocks like Giga-tronics (GIGA), Saratoga Resources (SARA), and Limelight Networks (LLNW)…
Giga-tronics (NASDAQ: GIGA)
GIGA took off like a rocket last week!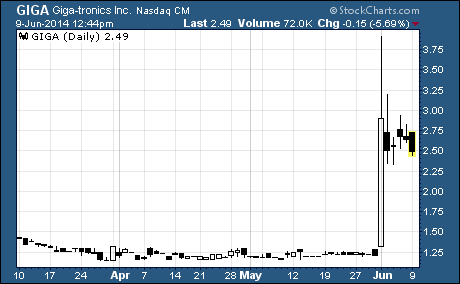 Shares of this exciting penny stock started the week with a bang by more than tripling in value intra-day last Monday. And while the stock was unable to hold onto all of those gains, it finished the week with a spectacular rise of 118%.
I'll explain why in a moment, but first a word or two about the company…
Giga-tronics provides test and measurement equipment to commercial and government customers in the Americas, Europe, Asia, and internationally. The company's equipment is used in the development, testing, and maintenance of wireless communications systems, flight navigational equipment, electronic defense systems, and automatic testing systems.
Over the first nine months of its fiscal year (ending March 2014), Giga-tronics has generated $10.4 million in revenue.
So, why did the stock soar last week?
The company announced on Monday that it signed a multi-year agreement with a major aerospace firm. Under the deal, Giga-tronics will develop a variant of its high performance fast tuning YIG filters for a third aircraft platform.
What's more, the company received $6.9 million in orders for a limited number of flight-qualified prototype hardware. And management expects to receive an additional multi-year order later this year for approximately $10 million related to the production units.
No question about it, this contract has potential to drive strong growth in the company's sales. But after last week's big run, you may want to wait for a pullback before picking up shares of GIGA.
Saratoga Resources (NASDAQ: SARA)
Saratoga Resources is an independent oil and gas exploration and production company with offices in Houston, Texas and Covington, Louisiana. Its principal holdings cover 52,103 gross/net acres located in the transitional coastline and protected in-bay environment of south Louisiana and in the shallow Gulf of Mexico shelf.
The company had a rough year in 2013…
Revenues declined nearly 18% year-over-year to $67.4 million. Net loss increased from 12 cents to 76 cents per share. And the stock price plunged 68% to finish the year at $1.12.
And prior to last week, shareholders still didn't have much to celebrate.
First quarter revenues declined 39% year-over-year to $11 million. Net loss rose from just 4 cents to 27 cents per share. And the stock had gained just 8% since the beginning of the year.
But all that negativity went out the window last week…
The company surprised everybody with better than expected results from a test of its Rocky 3 horizontal development well in Breton Sound Block 32 field. According to a press release, the well tested on May 30, 2014 at gross equivalent rate of 1,533 barrels of oil per day and 240,000 cubic feet of gas per day.
That works out to a net 1,288 barrels of oil equivalent per day (BOEPD).
If this production rate holds true, Rocky 3 will have a huge impact on the company's top and bottom lines going forward. You see, Saratoga produced 2,201 BOEPD in 2013. With added production of 1,288 BOEPD from Rocky 3, the company's looking at a whopping 59% increase in production.
As you've probably guessed, SARA jumped on the news last week…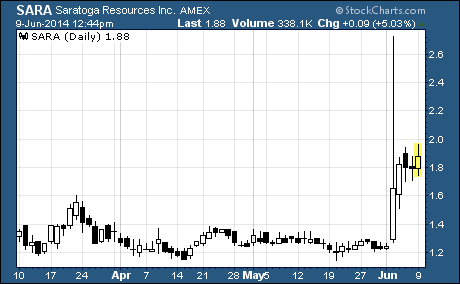 The shares spiked on Tuesday to a high of $2.72 for a stunning intra-day double before ending the day with an impressive gain of 33%. And by the close of trading on Friday, the stock had surged 46% for the week.
What's more, SARA is continuing its upward climb this week. As I write, the stock is up 5% in intra-day trade.
Limelight Networks (NASDAQ: LLNW)
LLNW is moving higher in a strong uptrend…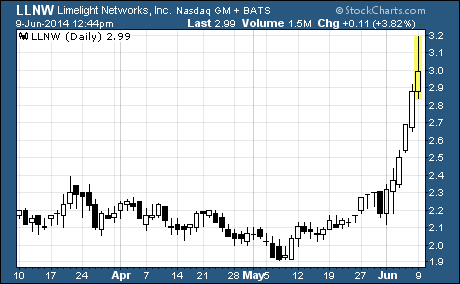 As you can see, the stock traded up from the prior week's close of $2.18 to a high of $2.92 before finishing the week at $2.88 per share. That's a 32% gain in just the past five trading days. And it's up another 2% in today's trade as I write.
What's going on?
The company received excellent news from the US Supreme Court last week. The nation's highest court ruled that Limelight Networks is not liable for infringing patents owned by Akamai Technologies related to the management of web images and video.
The decision means that Limelight won't have to pay $41.5 million in damages awarded to Akamai by a Massachusetts jury in 2008.
Tempe, Arizona-based Limelight Networks provides digital content delivery services in the Americas, Europe, the Middle East, Africa, and Asia Pacific. The company's technologies and services help customers deliver rich media files such as video, music, games, software, and live streaming to any device anywhere in the world.
Look for the stock to continue its upward trend. Even with its recent gains, LLNW is still down 65% from its high of $8.58 hit in February 2011.
Profitably Yours,
Robert Morris
Category: Hot Penny Stocks