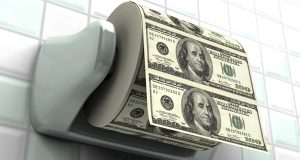 Welcome to Pump and Dump Friday, our weekly feature where we identify potentially "bogus" promotions going on in penny stocks.
Today we're exposing one of the most extensive penny stock pump and dump campaigns of the week… Amazonica (OTCQB: AMZZ).
If you don't know how these schemes work, be sure to check out our free report that exposes the whole thing.
Without further ado, here is today's disaster waiting to happen:
Amazonica (OTCQB: AMZZ)
AMZZ is one of the most heavily hyped penny stocks of the past week.  The stock has been pumped by 44 promoters through more than 90 newsletters.  And more than $70,000 has been paid to get the word out on AMZZ.
If the name sounds familiar to you, it's probably because this isn't the first time AMZZ has been promoted.  We did some digging and found that the stock has been pumped by penny stock promoters regularly since March.
The earlier campaign appeared to help the stock pull out of a nasty tailspin…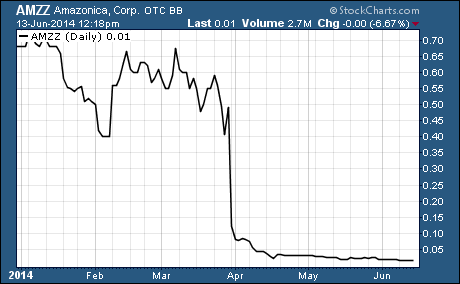 As you can see, the stock fell from around 70 cents in mid-January to a low of 26 cents in early February.  That's a 66% plunge in just a couple weeks' time.  But when the pump campaign started in early March, AMZZ traded back up to the 70 cent level in a matter of days.
However, the good times didn't last very long.
The stock started to move lower in choppy trading during the second half of March.  And by month's end, AMZZ was changing hands for 49 cents.  Then in early April, the bottom fell out of the stock as it plummeted to a low of just 2 cents per share.
All in all, AMZZ lost 97% of its value in about a month and a half.
Despite the stock's horrible performance over the past few months, the promotion campaign hasn't missed a beat.  A large number of penny stock pumpers continue to urge subscribers to invest their hard earned dollars in AMZZ.
The hype surrounding Amazonica is that the company is "developing a breakthrough, low cost technology to make 99.999% pure hydrogen."  The purpose of the company's efforts is to provide a source of clean, cheap hydrogen that can support large scale fuel cell usage.
That's an exciting business to be sure, but the company will require a lot of time and money to achieve its goal.  And there are a number of other companies also working on developing the same kind of technology.
Our biggest concern about the company is that its financial situation is in a precarious state. 
According to the most recent quarterly report (January 2014), the company has just $10,117 in cash and $325,000 in long-term debt.  What's more, Amazonic hasn't generated a penny of revenue since inception and has racked up a cumulative net loss of $220,062.
The report also points out that "further losses are anticipated".
Our view is that Amazonica's story is just too good to be true.  A tiny, development stage company with $10,000 in the bank is going to develop the technology to generate pure hydrogen and make fuel cell powered vehicles a reality?
Large companies have spent billions of dollars in the quest to make hydrogen powered fuel cells an economically viable source of power for vehicles.  And they haven't been able to make it happen.
We seriously doubt Amazonica is going to succeed where the big boys have failed.
Our skepticism is further fueled by the timing of management's decision to enter this business.  You may recall that a number of fuel cell and hydrogen stocks doubled or tripled in value in 2013.
It seems like management saw the huge rally going on in hydrogen stocks and decided they'd try to cash in on the euphoria. 
And of course, don't forget the ongoing promotion campaign behind AMZZ that is now into its fourth straight month.  These campaigns are usually funded by seed shareholders who are trying to drive up the share price so they can unload their shares for a tidy profit.
Given all the warning signs surrounding AMZZ, we suggest you look for better opportunities in the penny stock space.  Don't waste your hard earned money on such a highly speculative stock that is being manipulated by the pumpers.
Profitably Yours,
Robert Morris
Other Penny Stocks Being Pumped This Week
Alkame Holdings (OTCQB: ALKM) – 58 promoters with 121 newsletters have been paid more than $367,000 to hype ALKM this month.
Eco Depot (OTCPINK: ECDP) – 15 promoters with 106 newsletters have been paid over $30,000 in June to plug ECDP.
Category: Pump & Dump Alerts