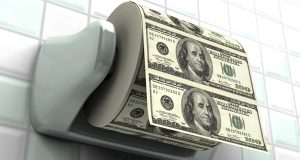 This week we're exposing these two popular Pump & Dumps:  OriginOil (OOIL) and TagLikeMe (TAGG).
That said, welcome to Pump and Dump Friday, where every week we identify a few of the potentially "bogus" promotions going on in penny stocks today.
If you don't know how these schemes work, be sure to check out this free report that exposes the whole thing.
Without further ado, here are today's "disasters waiting to happen":
OriginOil (OOIL)
We've caught a repeat offender here.  Anyone remember this ticker symbol?  OOIL was pumped back in July by the mega-pumpers Beacon Equity and Stock Roach.
At the time, the pumpers reported being paid $92,000 and cashing out 31,101 restricted shares.  At this time, the pumpers have run the tab up to $142,000… but it's not clear if the latest $25,000 is part of that total, or now in addition to it.
Here's the real killer…
While the pumpers were paid cash, they also received yet another round of 45,000 restricted shares from the company directly!
Yes… I said from the company directly.
I'd say someone needs to look into why a company is paying a known paid pumper to promote their stock shares.  It's not like we're seeing investors relations consulting here… this is pumping.
Check out the type of stuff these pumpers are saying…
"OriginOil Inc. (OOIL) was a natural candidate for a technical alert and this morning's NEWS sparked its 22% rally."

"Yes, OOIL is licensing its oilfield cleanup systems and expects to book revenue on this deal "in early 2013" — not too far away now!"

"OOIL has proved that it can run for days or even weeks under similar conditions, so I wouldn't take it off my screen yet!"
I don't know about you, but pointing out the technical possibilities and possible revenue that's over a year away is straight up pumping!
Now, pumping aside, for the life of me I can't figure out who would buy this stock at $0.90…
For starters, OOIL posted revenue of $15,000 last quarter.  The problem is the cost of revenue was over $21,000 – meaning OriginOil sold goods below cost.  They would have been better off doing nothing at all.
But the bloodshed doesn't end there…
You see, for the privilege of selling your goods and services at a loss, OOIL paid sales and administrative expenses of, – get this – $1.49 million!
All in all, OOIL lost $1.47 million for the quarter.  And these shares go for $0.90 each?  Wow!
Let me leave you with a picture… it tells the rest of the story about OOIL shares… and why you can leave them out of your portfolio!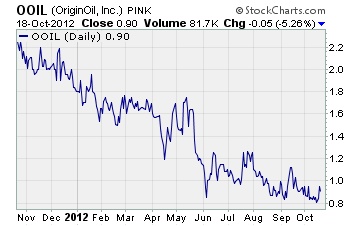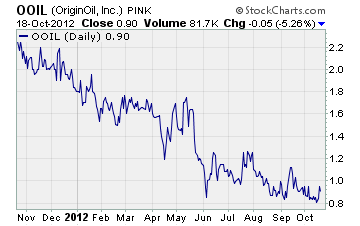 TagLikeMe (TAGG)
Ahh, fresh meat.
The penny stock world has recently been learning about TAGG, thanks to the pumping group of Penny Stock Advice and Victory Stocks.  They "expect to be" paid €10,000 for a two month pump on TagLikeMe shares.
So they haven't been paid as of yet but they expect to be… is that supposed to make us feel better somehow?
Of course the pumpers are happy to tell you all the great things about TAGG, but they leave out the important details that investors really want to know.
First off, this stock can't figure out what it wants to be.  Up until June 15th, 2012, TAGG was known as Morgan Creek Energy Group.  They had property in New Mexico and deals in other states for drilling, etc.
So is TAGG in the energy business?
Sadly, no.  TagLikeMe is setting up to be a social interest company attempting to copy Pinterest.  Oh yeah, just what the world needs… yet another social media company who's revenue will be a mystery to figure out!
Secondly, TAGG's financials are a real mess.  Apparently the company has yet to record any revenue and managed to lose $144,061 in the second quarter of this year.
Now here's the really ugly part…
TagLikeMe is sitting on an accumulated deficit of $14.8 million.  Boy, shareholder value like this makes me want to run out and scoop up as many shares as I can right away… Not!
Of all the reasons I've given you to ignore the pumper's fluff and avoid the stock, here is the most compelling…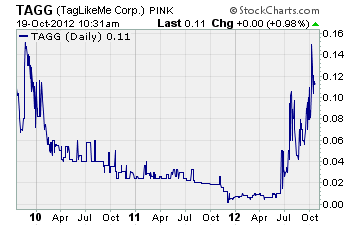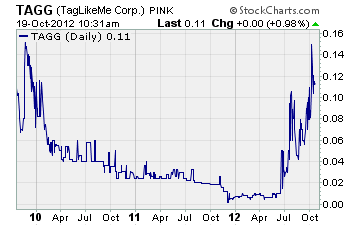 Boy, that's an ugly chart pattern if I ever saw one!  There's a clear double top over the lifetime of the stock.  And even worse, the share price is already starting to decline again.
Ignore the run up from July until now… that's just the pumping at work.  My call – this penny stock will be trading right back where it was at the beginning of the year within a month or two… under a penny!
Other Penny Stocks Being Pumped This Week
GRST – Buzz Stocks expects to receive $5,000 from Galaxy, LLC for a 2-day promotion
LUDG – Equity Trading Alert was paid $6,250 by RDI, LLC
AMBS – OTC Stock Pick was paid a fee up to $30,000 cash
A final word (and warning).
These are just a few of the potential "pump and dumps" we've seen lately.
Remember, there's a lot more of this going on than we can highlight here.
As you know, penny stocks are a great place to invest your money.  You just have to do your due diligence to stay away from all the schemes and scams out there these days!
Until next time,
Brian Walker
Category: Pump & Dump Alerts