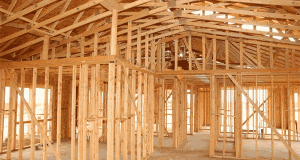 One of the primary causes of the Great Recession may finally be behind us.  Believe it or not, homebuilding in the US is showing significant signs of growth.
Just this week, the economic data show housing starts surging a stellar 15% in September.  More specifically, beginning home construction soared to an 872,000 per year rate.
That's significantly higher than the Bloomberg survey's median estimate of 770,000… and way higher than even the top estimate of 800,000.  Clearly, the numbers surprised everyone.
And that's great news for investors.
First off, it's a strong sign that keeping interest rates extraordinarily low is starting to payoff.  After all, the jump in homebuilding is primarily due to the low cost of mortgages.
Even better, the upswing in housing is a great signal for the labor market.  Nearly two million construction workers lost their jobs since the financial crisis began.
With homebuilding rapidly gaining steam, construction jobs should start opening up.  It's especially true since existing supplies of homes are dwindling.
Here's the most important part…
A housing recovery is beneficial to a wide range of industries.
It's not just homebuilders.  Others who benefit are financial institutions, material suppliers, transportation companies, home décor businesses, and much more.  Just think about everything that goes in to building a house and the aftermath.
We're talking about a range of products and services.  Everything from lumber providers and plumbers to mortgage lenders and home security businesses are impacted.  It's truly great news for the economy.
So how can small cap investors profit?
In this case, it's actually pretty easy.  There are so many industries impacted by home construction, a wide variety of attractive small companies are available to investors.  Even homebuilders themselves can fall into the penny stock category.
However, I happen to favor regional banks.  The industry is way down from the financial crisis and has a long way to go to return to pre-crisis levels.
Most regional banks focus on mortgage lending as a key component of revenues.  As such, it's easy to see why many of these undervalued companies stand to gain from a boom in housing.
Moreover, there are dozens of small cap regional banks to choose from.  With a little research and savvy investing, you could see big gains by using regional banks to play the housing recovery.
Yours in profit,
Gordon Lewis
Category: Investing in Penny Stocks