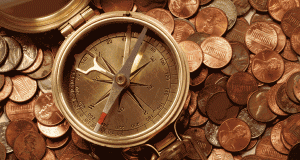 There's nothing sneaky or sly about how to beat the S&P 500 average – simply invest in penny stocks.  It's a well known fact that small and micro cap stocks most times lead rallies to new highs.
But right now is a tough time to call which way the market is headed…
We'll talk about that in just a second. 
If you're having a hard time finding the conviction to add individual penny stocks to your portfolio, but still want to give yourself exposure to the group… then maybe an ETF is the way to go.  In just a moment, I'll show you one of the best-performing ETFs in the market for penny stock investors to capitalize on.
But first, back to our little problem…
As I pointed out, it's unclear if the markets move higher or lower from here.
What is clear is the major stock averages are playing chicken with the Fed and their call for possibly rolling out more stimulus.  Why else would the S&P 500 be sitting just off a fresh 4½ year high – failing to make newer highs since then?
I'll tell you why – there's a strong belief the Fed is really going to roll out QE3.
And the reason we're seeing very little volatility is neither bears nor bulls are willing to make a big bet right now.  If the Fed makes an announcement confirming QE3 or if they stall on adding stimulus – one side will lose pretty big.
There's really no way to know for certain.  That's why we're treading water right now.  We've been fooled in the past, and we won't be fooled again.
The bottom line… traders and investors alike are waiting for confirmation from Ben Bernanke.  He's the reason the stock market started this recent rally in the first place – and news from Jackson Hole this Friday will push market direction one way or the other.
Until then, don't expect all that much…
Now, if you feel we're going to see the markets move higher come Friday, I told you I have the perfect solution for you… buy a penny stock ETF.
But don't rush out and buy just any penny stock ETF.  You want to own a penny stock ETF that has consistently outperformed the SPDR S&P 500 (SPY) for the last two years running.
That's where the SPDR S&P 600 Small Cap ETF (SLY) comes in…
For most investors, SLY has slid under the radar.  It's not something you'll find in the mass media on a daily basis.  But be aware, this small and micro cap ETF has outperformed the SPY.   Just take a look at the chart for yourself…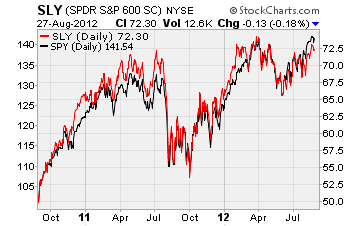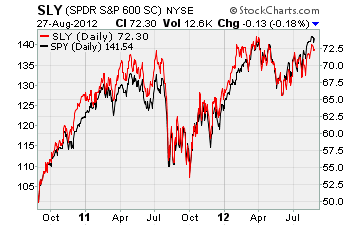 As you can see, SLY (the red line) is almost always out ahead of the SPY (black line).  There are very few exceptions to this, and these blips look to be very short lived.
Not only can you actually use a penny stock ETF to beat the S&P 500, but you can see that even on the downturns, SLY still outperforms the SPY.   It's not just an upside benefit you would've had when buying this ETF.
If you feel confident that the Fed will be rolling out QE3 in the coming months – then SLY may just be the way for you to invest in penny stocks and outperform the S&P 500… in either direction.
Editor's Note:  If you're not into ETFs, but not sure how to pick individual penny stocks either, our in-house guru Gordon Lewis has created a "must read" guide for anyone looking to capitalize on individual penny stocks.  Click here to check it out.
Until next time,
Brian Walker
Category: Investing in Penny Stocks, Penny Stock Tips