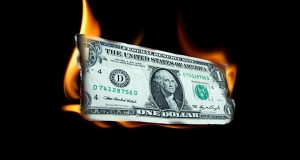 Welcome to today's Pump and Dump Alerts, where we will be exposing these two companies:  New Western Energy (NWTR) and Pristine Solutions (PRTN).
Here we identify a couple of the potentially "bogus" promotions going on in penny stocks today.
If you don't know how these schemes work, be sure to check out this free report that exposes the whole thing.
Without further ado, here are today's "disasters waiting to happen":
New Western Energy (NWTR)
New Western Energy is an oil, gas, and mineral exploration and production company.  NWTR currently has projects located in Oklahoma and Texas.  The company is still a developmental stage company and therefore has lost $110,418 for the quarter ending June 30th.
Shares of this penny stock traded near $0.69 today.
The Lightening Picks, owned by Blue Wave Advisors, was paid $30,000 from Equities Alliance to pump NWTR.
Pristine Solutions (PRTN)
Pristine Solutions, through its wholly owned subsidiary company, Eaton Scientific Systems, holds rights to Tropine 3.  This product is a novel indication of an existing FDA approved drug for the non-hormonal treatment of hot flashes in menopausal women.  For the quarter ending July 2012, PRTN saw cash levels fall to $0 from $201 in the prior quarter.  In addition, the company posted a loss of $8,547 in the same time period.
In late August, we exposed a pump and dump scheme that was being run on shares of PRTN.  Back then, shares were trading near $0.40.  As of today, shares of this penny stock are trading near $0.44.
Currently, Penny Stock Expert is being paid €10,000 to hype shares of PRTN.
A final word (and warning).
These are just a few of the potential "pump and dumps" we've seen lately.
Remember, there's a lot more of this going on than we can highlight here.
For more in-depth coverage of potential penny stock pump and dumps, be sure to sign up for our free newsletter, Penny Stock Research.
As you know, penny stocks are a great place to invest your money.  You just have to do your due diligence to stay away from all the schemes and scams out there these days!
Until next time,
Brian Walker
Category: Pump & Dump Alerts, Pump & Dump Daily