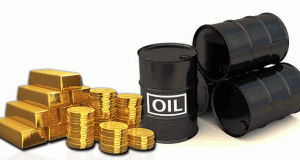 It's been an intriguing year for commodities.  Over the summer, corn and other grains dominated the headlines with record high prices due to a historically severe drought.  Natural gas also has gotten a lot of attention after finally reversing its steep drop.
But, no commodities are more widely followed than gold and oil.
As you know, gold is one of the most popular safe-haven investments.  It serves as a hedge against a drop in the dollar.  And, it's globally recognized as a store of value.
Of course, oil is the world's most vital fuel source.  It's also a key benchmark for the global economy.  You see, the price of oil is often a great indicator of economic activity.
Under normal circumstances, the price of oil rises when the global economy is strong.  That's because so many industries are dependent on oil for producing and transporting products.
Here's the thing…
Both short-term and long-term investors in gold and oil have done well.
Over the last quarter, gold and oil have each gone up roughly 9%.  Conversely, in a three year span, crude oil has climbed over 40%.  And how about gold over that same period?  It soared nearly 75%.
Now, gold's rise has been fairly steady during that timeframe while oil has jumped around quite a bit.  Still, long-term investors in both commodities don't have a whole lot to complain about.
Okay, enough about the past, let's look at the future.  Between gold and oil, which is the better investment moving forward?
To answer that question, we once again need to consider short-term versus long-term investing.
Over the short-term, it's hard to argue with investing in gold.
You see, the recent round of Fed stimulus (QE3) is not only robust, it also doesn't have a defined end point.  That means the Fed will keep up their aggressive bond buying until unemployment drops to a reasonable level.
This massive infusion of cash into the economy should put steady pressure on the dollar.  And, keep in mind, a decline in the dollar almost always results in the price of gold rising.
On the other hand, oil makes an excellent long-term investment.
Unlike gold, the supply of oil is rapidly being depleted.  At some point, there won't be enough oil to meet demand.  Essentially, given enough time, the price of oil has no choice but to continue moving higher and higher.
Bottom line, you can't really go wrong with either gold or oil as an investment, it just depends on your time horizon. 
Just don't forget, one of the best ways to get exposure to both commodities is by using small cap companies.  Smaller gold miners and oil drillers provide excellent value, with even more upside potential than the commodities themselves.
Yours in profit,
Gordon Lewis
Category: Commodity Stocks, Gold Stocks, Oil Stocks