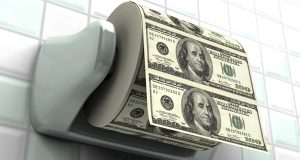 This week we're exposing these three popular Pump & Dumps: North Springs Resources (NSRS), TBSS International (TBSS), and Apps Genius (APGS).
That said, welcome to Pump and Dump Friday, where every week we highlight a few of the "bogus" promotions that are going on in penny stocks.
If you don't know how these scams work, be sure to check out this free report that exposes the whole thing. 
Now without further ado, here are the rest of this week's disasters waiting to happen:
North Springs Resources (NSRS)
I'd hope after last week's expose` on North Springs Resources, you'd be ignoring the pumper's emails.  But with the all-out blitzkrieg of hype from paid stock promoters, you may be tempted to buy some shares.
If you missed it last week, let me quickly recap NSRS for you…
North Springs Resources is a gold exploration company that has an exploration deal in Wickenburg, AZ just getting underway.  In a press release on January 11th, the company's president hopes to prove they'll strike gold and said,
"We are confident that the planned exploration and drilling at Goldstar could quickly prove up the current 350,000 ounce estimate and provide us with enough data to make the decision to build a new mine and quickly go into production."
To prove their theory, the company had to borrow $1 million, at a 10% annual interest rate, to pay for the exploration phase of the project.  NSRS has already committed over half of this million dollars to prove they might be right. 
That sounds all well and good, but here's something you should know before investing in NSRS shares…
Before they borrowed the money, the company had $16 in cash on the books.  Yeah, not $16,000, or $160,000… but $16.  That's only enough to pick up lunch!
What's more, NSRS is spreading their newly acquired cash a bit thin.  North Springs has their original Nevada gold project (which isn't producing gold) and the newly acquired GoldStar project in Arizona. 
That seemed like well more than enough hype.  But no, not for these guys…
NSRS just announced they've signed a letter of intent to invest more money in a gold project in Ghana!
Ghana?
Seriously now, what business does this little company in the US, with no revenue to support expansion, have trying to explore for gold halfway around the globe? 
NSRS needs to leave the Gold Belt in Ghana to the big boys like Newmont and AngloGold.  These multi-billion dollar miners have the revenue to spend on expansion and research into distant lands such as Ghana.   Not some rinky-dink company with $16 in cash, no revenue, and a stock that's pumped by paid promoters…
I don't think I need to add anything more as NSRS has just given you a huge red flag to run away as fast as you can.  North Springs is clearly reaching in a desperate attempt to find gold anywhere… anywhere at all.  Their latest attempt to explore in Ghana proves it.
TBSS International (TBSS)
The pumpers have been out hyping up TBSS International shares this week.  In fact, 24-7 Stock Alert was paid $10,000 by ACN, LLC to tell you how TBSS is a "Low Price Monster."  But of course, they won't give the real dirt on the company… that's my job.
Here's what I dug up…
First off, TBSS International is not only the company's new name, it's an entirely new business.  Management previously operated the company as Avenue South, Ltd.  The stock symbol for the old company was even different… ANSH.
But it's management going into a brand new business that worries me…
As Avenue South, the company operated a web based home goods and furnishing store.  From their inception in July 2007 until June 30th, 2011… their net loss was $26,779.  Basically, they weren't making money selling home furnishing goods over the web. 
So they decided to change businesses…
Now, ANSH is TBSS International… a self-described "visionary development firm" with construction and service contracts in oil drilling, gold mining, water well drilling, and sonic and horizontal drilling. 
Huh?  How do you go from selling pillows online to managing multi-million dollar service contracts? 
Ok, ok… let's say they can do more than sell pillows.  Let's take a closer look at TBSS' books…
For the three months ending in September 2011 (the company became TBSS on July 6th), the company posted $0 in revenue.  Somehow the company managed a loss of $45,815 though. 
And that's not a great start…
TBSS lost more in three months than in the previous four years… when they were selling pillows and such!
Well, let's forget all those fussy little details, like profitability, and listen to The Penny Stock Chief.  I think not!  After getting paid $15,000 to pump shares TBSS, I think we'll pass on listening to anything he has to say.
I suggest you also pass on shares of TBSS.  
Apps Genius (APGS)
We're going from silly to absurd next…  Apps Genius is their name, and building Facebook, iPhone, and Android apps is their game.  But their apps are hardly worthy of the name
"Genius". 
In fact, their top product is an app built around intellectual icon – "Snooki" – from the MTV reality show Jersey Shore.  (No, I'm not making this up…)
The app allows you to place Snooki's hair, glasses, clothing and other "Jersey Shore" accessories on a photo stored in your phone.  And for the pleasure of getting yourself dolled up like Snooki… you need to pay $1.99 to buy the app. 
Wait, wait… I think I hear the phone ringing.  It's Mensa on the other line guys… they want to know how you came up with such a product worthy of "Genius".  Ha!
Anyway, besides their flagship Snooki app, APGS also has a handful of free apps that run on Facebook.  Of course, from Apps Genius, you'd expect names like Bruisers, Crazy Dream, Drama Llama.  Yes, sometimes my job is this fun.
Let's look at their stellar financials… or not so stellar. 
For the first nine months of 2011, APGS scrounged up $10,450 in revenue… only to post a loss of $193,889.  And that's with operating expenses running $204,339. 
But don't worry, "Papa Roach knew APGS had potential", as the pumper's email was titled.  Really, I'm not making this up.  The Stock Roach was paid $35,000 to hype APGS… so of course the stock has potential. 
Bottom line…
It doesn't take a "genius" to see Apps Genius is far from investment worthy.  That is, unless, you're ready to take investment advice from Snooki.  Hey, a girl's gotta' hawk her wares, right (after GTL, of course)!
A final word (and warning).
So that takes care of a few of this week's inglorious "pump and dumps".
Remember, there's a lot more of this going on each week than we highlight here.
As you know, penny stocks are a great place to invest your money.  You just have to do your due diligence to stay away from all the scams out there these days!
Until next time,
Brian Walker
Category: Pump & Dump Alerts