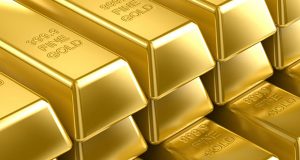 It's not often you'll catch me raising a red flag on gold or silver.  I'm a firm believer in these hard currencies.  So I tend not to worry much about them.  But I'm starting to see a pattern that has me worried about gold. 
Basically, I'm concerned a bubble is forming in gold stocks…
Now before the gold bugs call me "crazy", let me just say my concerns have merit.  And there's no doubt, we've seen this kind of activity before.
Here's what I'm seeing…
I'm sure you remember the tech stock bubble of the late 90s and early 2000s.  For those who don't, here's a quick recap.
The late 90s were a wild time for tech stocks.  Just about any company with an "e-" or a ".com" in their name was gobbled up by investors… much like a kid in a candy store.  And up until the spectacular NASDAQ crash, buying tech stocks was almost a guaranteed profit. 
That's what drew in the dark element.  Unsavory people found a way to capitalize on the weak.  And when thieves and con artists smell blood, they attack…
I remember seeing an endless number of faxes and emails coming across my desk.  These "promos" were hyping the next great tech stock you had never heard about.  A common refrain was… "This company has a product that will revolutionize the internet!" 
And investors afraid of missing the boat jumped into every opportunity.
Sadly, many of these faxes and emails were nothing more than pump and dump schemes set up by major shareholders, through various LLCs.  In some cases, the insiders themselves were helping pump up the worthless stocks! 
They'd get you to buy into their stock, and once the share price rose, they'd sell off for a huge profit. 
Even worse, sometimes these companies would change their name and business, just to become any type of technology based outfit.  They'd have no management experience in tech and sometimes no real tech products. 
And that's the reason I'm concerned about gold…
It's happening again.  But instead of tech stocks being pumped, as they were at the end of the huge NASDAQ run up… I'm seeing the hyping of mining and gold exploration ventures. 
I'm constantly exposing company after company for pumping their shares through paid promoters!  Of course, it's almost always a third party LLC.  But what's clear is they're doing the same thing with these gold mining stocks that they did with tech stocks back in the late 90s… 
And they're hoping that everyone that's missed out on the huge run up in gold over the past few years, will jump on "new" gold and exploration companies now. 
Here are just a few of the most hyped gold and metal mining stocks I've outted for being involved with paid penny stock promoters…
Lone Star Gold (LSTG)
Viking Minerals (VKML)
Abot Mining (ABOT)
North Springs Resources (NSRS)
Auric Mining (AUMY)
I could go on, and on, but you get the picture.
As I said earlier, I believe in the fundamentals of gold and silver.  These metals are a great asset to hold in a world full of weakening fiat currencies. 
But now, there are a huge number of gold and mining outfits cropping up all over the place.  And I'm getting nervous.  I mean, really… this isn't 1862. 
Bottom line…
The onslaught of tech pump and dump promotions in the late 1990s was a strong signal that the NASDAQ bubble was about to burst.  Today, we're starting to see the same patter play out in gold mining stocks.  This could be a sign that the gold bubble is getting ready to burst.  It could happen in a matter of weeks, or it could take years. 
So be sure to keep a close eye on our weekly pump and dump articles.  It's one of the only places you'll find that's exposing the pump and dump game being played on gold stock investors. 
For more information on what to look for in a penny stock pump and dump, read our free report.
Until next time,
Brian Walker
Category: Gold Stocks