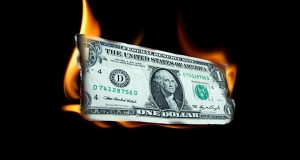 Welcome to today's Pump and Dump Alerts, where we will be exposing these two companies:  Nouveau Life Pharmaceuticals (NOUV) and Green Technology Solutions (GTSO).
Here we identify a couple of the potentially "bogus" promotions going on in penny stocks today.
If you don't know how these schemes work, be sure to check out this free report that exposes the whole thing.
Without further ado, here are today's "disasters waiting to happen":
Nouveau Life Pharmaceuticals (NOUV)
Nouveau Life Pharmaceuticals was formerly known as Hybrid Fuels (HRID).  Back in February, we exposed a pump and dump being run on shares of HRID.  Now NOUV is looking to provide consumers with natural alternatives to prescription drugs.  Nouveau Life is developing nutraceuticals solutions for impotence, erectile dysfunction, acne, and cholesterol.
For a second time, we exposed a pump and dump scheme on NOUV in late May.  At that time, shares traded around $0.02.
Currently, this penny stock trades around $0.008… just a fraction of a penny.
Penny Stock Pros has been paid $35,000 to pump shares of NOUV.
Green Technology Solutions (GTSO)
Green Technology Solutions is a development stage company seeking to indentify, acquire, and develop green technologies.  GTSO focuses primarily on rare earth and precious metals mining applications.  In addition, the company also focuses on identifying green technologies in paints.  The company was formerly known as Sunrise Energy Resources Inc. and changed its name to Green Technology Solutions in October 2010.
For the first quarter of 2012, GTSO lost $974,000.
Currently, shares of this penny stock trade around $1.50.
OTC Stock Pick was paid $30,000 to hype shares of GTSO.
A final word (and warning).
These are just a few of the potential "pump and dumps" we've seen lately.
Remember, there's a lot more of this going on than we can highlight here.
For more in-depth coverage of potential penny stock pump and dumps, be sure to sign up for our free newsletter, Penny Stock Research.
As you know, penny stocks are a great place to invest your money.  You just have to do your due diligence to stay away from all the schemes and scams out there these days!
Category: Pump & Dump Alerts, Pump & Dump Daily