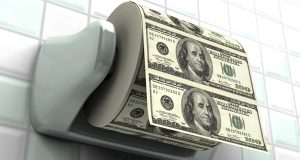 This week we're exposing these three popular Pump & Dumps:  Mustang Alliances (MSTG), Li-ion Motors (LIMO), and American Liberty Petroleum (OREO).
That said, welcome to Pump and Dump Friday, where every week we highlight a few of the "bogus" promotions that are going on in penny stocks.
If you don't know how these schemes work, be sure to check out this free report that exposes the whole thing.
Now without further ado, here are this week's disasters waiting to happen:
Mustang Alliances (MSTG)
It looks like we have yet another gold exploration company in the midst of a pump and dump… MSTG!
Mustang Alliances is one of the hundreds of micro-cap companies trying to strike it rich by digging for gold and other precious metals.  The company has operations in the US and Honduras under various mining concessions.
In fact, MSTG is currently planning a 12-15 hole drill program at their Potosi mining concession and planning to set up a permanent exploration camp there as well.
Ok, ok… before you run out and buy the shares, that's the stuff  the pumpers want you to hear.
But I've dug up the real dirt on MSTG for you…
As of September 30th last year, Mustang reported having $62,206 in cash.  That's actually not bad for most companies we talk about here…
But that's the end of the good news for MSTG.  For the same nine month period in 2010, the company had $149,982 in current liabilities.  Last year, they were only $26,586.
So what happened?  Ah, they must have had revenue and paid down their debt.  That's what they want you to think…
Nope, they cleaned up their balance sheet by issuing more shares… 9x as many more shares than they already had.  MSTG had only 10.9 million outstanding shares for the nine months ending September 2010.  For the same period ending in 2011, the total outstanding shares of common stock jumped to over 104 million!
And things get worse as we move onto earnings…
Of course as an exploration company, MSTG has $0 in revenue.   And during the first nine months of 2011, they lost $620,562.
Earlier I mentioned MSTG was in the midst of a pump and dump.  Well, Obscure Stock was paid $100,000 for their latest promo on Mustang.   And they've banked a total of $300,000 from Jemsta Enterprises over the life of the promo!
Take a look at the chart below to see what that kind of money can buy you…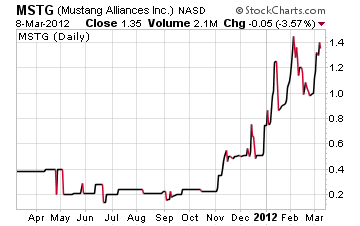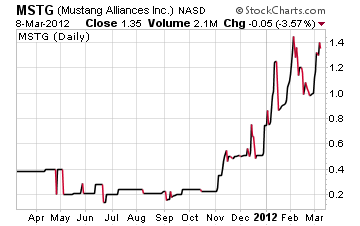 Consider this your first and most important warning… shares are being manipulated higher through paid promotions of the stock.  If you own any shares, sell now… before MSTG's chart looks like this…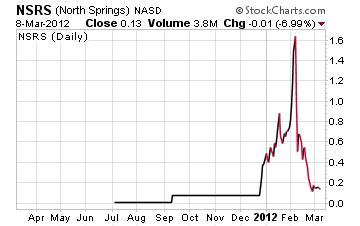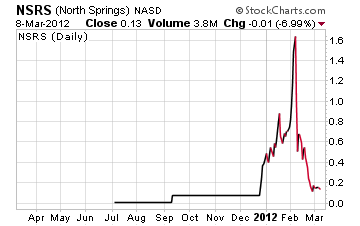 Don't say I didn't warn you!
Li-ion Motors (LIMO)
I really want to like Li-ion Motors.  They're a company involved in the alternative energy transportation space and I'm all about the "green" movement.  But sadly, I have nothing good to say about LIMO from here out…
First off, their stock is being pumped by Penny Stock Explosion.  This pumper collected a $5,000 fee for a two day campaign.  And they're not alone.  Other pumpers touting LIMO include Breaking Bulls, Moving Pennies, and Club Penny Stocks.
In total, the pumpers have collected over $40,000 since the beginning of the month.
So why are they pushing shares of LIMO?
Probably because the company is afraid they won't be in business much longer.  Li-ion Motors had $0 revenue from sales of their products so far in 2012.  In addition, LIMO racked up a $233,223 loss for the three months ending October 2011.
Sad to say, management is even worried the company can remain a going concern!  Check out what they had to say on the matter…
"Management recognized that the Company's continued existence is dependent upon its ability to obtain needed working capital through additional equity and/or debt financing and revenue to cover expenses, as the Company continues to incur losses from operations."
How nice.  They need to sell shares and take on debt to continue operating.  The SEC filing continues…
"The Company expects to finance operations through the sale of equity or other investments as well as continued advances from shareholders for the foreseeable future, as the Company does not expect to receive significant revenue from vehicle sales until the required certifications have been received."
This is great stuff!  The company doesn't expect any revenue and will continue to sell shares. That dilutes the value of any shares already in the market (namely yours). 
And here's my favorite part…
"There is no guarantee that the Company will be successful in arranging financing on acceptable terms."
Excellent.  In summary, you plan on running the company on borrowed money for the foreseeable future, you expect to continue raising money by selling shares, but there's no guarantee that you'll stay in business.
Great!  Where do I send my check?
With prospects of success at LIMO shrinking, you can bet the "in the know" shareholders want to cash out for as much as possible.  That's why we're seeing a pump and dump run here.
American Liberty Petroleum (OREO)
Well it looks like the head honcho over at Penny Stock Explosion has been very busy lately.  Not only were they paid to pump the last stock, LIMO… but they pulled in $15,000 to hype shares of OREO!
While the ticker symbol sounds like the famous cookie, there's nothing sweet about this OREO…
Simply put, American Liberty Petroleum is a mess.  To begin with, they're responsible for financing half a dozen leases in Nevada, covering just about 13,717 gross acres of land.  The company has a 75% working interest in most of the leases and a roughly 64% net revenue interest in the properties.
The problem is they have no revenue to split!  That's right, they're not bringing in any money. 
What's more, their operating costs are through the roof!  For the fiscal year ending in October 2011, OREO had $405,764 in operating expenses and their loss for the year totaled $415,049.
Even their auditors are concerned they'll be in business by the end of 2012…
But what's interesting is shares are trading at $1.39 anyway!  I think it's obvious why.  It's because of the pump and dump scheme at work on the shares.
Take a look at this chart to see the crazy run up we're witnessing in shares of OREO…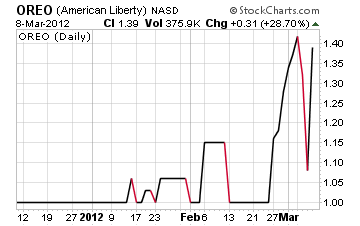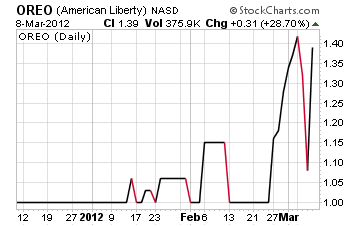 It's pretty obvious from looking at the three month chart that the pumpers are the only thing moving this stock higher!  And their renewed campaign yesterday caused a 28.7% jump in the share price!
More importantly, shares were up over $1.40 and then plunged to under $1.05 in 24 hours!  Yet the very next day, OREO bounced right back.  Right now, it's really tough to say where this stock is headed next.  It's not being traded like a "classic" pump and dump.
Based on fundamentals, OREO shares should be trading for pennies.  But when a stock is in a pump and dump scheme, you can throw fundamentals out the window!
I always encourage readers to stay away from a clear pump and dump.  With OREO, that goes double!  Anyone trading this stock right now might as well head to the roulette table.  The chart shows huge volatility, and a very high chance of getting burned big time, in no time at all.  And that's true no matter which side you're on… short or long.
A final word (and warning).
So that takes care of a few of this week's inglorious "pump and dumps".
Remember, there's a lot more of this going on each week than we highlight here.
As you know, penny stocks are a great place to invest your money.  You just have to do your due diligence to stay away from all the scams out there these days!
Until next time,
Brian Walker
Category: Pump & Dump Alerts