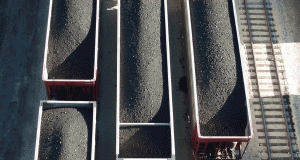 Energy stocks are seeing lots of action these days.  As a matter of fact, the energy sector has been grabbing many of the top headlines the past few weeks.
Of course, the biggest news has been centered on oil.  The price of crude oil is back up due to the threat of war with Iran, briefly cresting $110 a barrel.
Meanwhile, natural gas has taken it on the chin.  Huge inventories and sliding demand are causing the price to plummet.  In fact, the price of natural gas recently sank to a decade low level.
Renewable energy hasn't fared much better.  In particular, solar energy has been struggling quite a bit.  Concern over losing government incentives is just one of the reasons for the pullback.
Here's the thing…
There's another major energy industry that's also been hit hard this year.  And, most people have no idea what's going on.
I'm talking about the coal industry.
Coal stocks have pulled back nearly 20% over the last three months.  Basically, the cheap price of natural gas, a huge inventory surplus, and slowing demand, all have taken a toll on the industry.
It makes sense then, most coal stocks have seen their share prices drop significantly over the time period.
But it's not time yet to give up on coal.  In fact, this may be the perfect buying opportunity for this depressed industry.
Look, for better or worse, coal is still a vital energy source for the world.  Actually, it's used to generate over 40% of the world's electricity.
In other words, coal's not going away anytime soon.  It's still one of the cheapest and most abundant sources of energy.  That means depressed prices are nothing more than a short-term situation.
Moreover, new technology is making coal-generated energy cleaner than ever.  If the trend continues, clean coal could see a significant boost in demand.
And you know what that means…
The current selloff in coal stocks provides savvy investors with a great buying opportunity.
Even better, there are several solid penny stock coal companies you can invest in.  Exposure to the underpriced coal industry at bargain basement prices… sounds like the perfect combination.  As such, now's the time to add coal to your portfolio.
Yours in profit,
Gordon Lewis
Category: Commodity Stocks, Energy Stocks