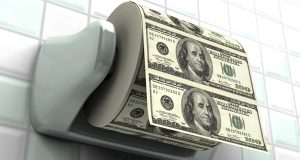 This week we're exposing one of the most popular Pump & Dumps:  Livewire Ergogenics (LVVV).
That said, welcome to Pump and Dump Friday, where every week we identify at least one of the many potentially "bogus" promotions going on in penny stocks today.
If you don't know how these schemes work, be sure to check out this free report that exposes the whole thing.
Without further ado, here is today's "disaster waiting to happen":
Livewire Ergogenics (LVVV)
Livewire's stock has certainly been that… a live wire!  It's traded all over the place since December of last year- with a single day's volume in excess of 15 million!  It's traded as high as $0.23 and as low as $0.06.
And now the pumpers are going to work on LVVV, chasing the stock up to $.12 before some selling took place yesterday.  The real item to note is the jump in share volume…
It had been lagging since mid-January, but jumped on February 6th and 7th to trade nearly 2 million and 3 million shares respectively.   I'd be willing to bet it has to do with the $105,000 RDI and David Cohen got paid by Add Ventures, LLC!
Now, take a look at the stock for yourself to see what you think…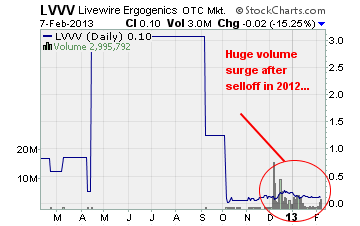 See that HUGE pickup in trading volume over the past couple of months?  To me that looks a lot like some share accumulation going on in preparation for a "pump and dump" scam!  Lord knows it's not because of great earnings, that we can be sure of.
In fact, Livewire's latest financial report showed the company posted a $165,000 loss for the 3rd quarter of 2012.  For the first nine months, LVVV posted a loss of $916,195- on gross profit of just $35,049!
Expenses alone were nearly $950,000.  That's not what you want to see from an investment grade company…
Of course the pumper says nothing of the financial state of LVVV.  They're just interested in how to best confuse you.  Here's their top tier analysis at work…
"I'm betting the farm that LVVV bounces off the .10 cent level where it closed today after hitting a high of $.137 in the early morning!"
Betting the farm?  I'd say more like LVVV is getting put out to pasture!  Do yourself a favor and stay away from this stock…
Other Penny Stocks Being Pumped This Week
SWVI – PennyStockAdvice is Degroupa Tenner Morales Media Corp and expects to collect €10,000  
BFLD – Buzz Stocks was paid $5,000 from Galaxy, LLC
A final word (and warning).
This is just one of the potential "pump and dumps" we've seen lately.
Remember, there's a lot more of this going on than we can highlight here.
As you know, penny stocks are a great place to invest your money.  You just have to do your due diligence to stay away from all the schemes and scams out there these days!
Until next time,
Brian Walker
Category: Pump & Dump Alerts