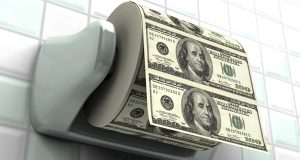 This week we're exposing this pair of popular Pump & Dumps:  Lifetech (LTCH) and Nilam Resources (NILA).
That said, welcome to Pump and Dump Friday, where every week we identify a few of the potentially "bogus" promotions going on in penny stocks today.
If you don't know how these schemes work, be sure to check out this free report that exposes the whole thing.
Without further ado, here are today's "disasters waiting to happen":
Lifetech (LTCH)
This job is a real battle.  Week after week, investors are hammered with sketchy emails from pumpers touting penny stocks by luring them with promises like "Get In Now For Your Chance At 1,378% Gains!"
At least, that's the current scam being run by Micro-Cap Consultants, LLC and StockMister, LLC.  Sure, sure… it's just a "chance" of 1 billion percent gain- but it's sketchy nonetheless.
Now, this may get complicated… but I have to break it down for you just the same.
The deal here is these two companies own the site PennyPicks.com- the source of the pumping.  Penny Picks is forwarding an email from Breakaway Stocks.
Further up the line, Capital Financial Media and Breakaway Stocks were paid $600,000 and $10,000 respectively to pump shares of LTCH.  And that's some serious coin…
This is where it gets confusing.  You see, Penny Picks sends you to their "disclaimer" web page instead of telling you how much they were paid to promote this penny stock.  And when you get to that page- there's nothing showing specific compensation for the email sent out on LTCH.
That, within itself, is against SEC regulations!  Shame, shame- everybody knows your name (now).
But what about the company itself?
Of course, like most pumped stocks- it's nothing I'd put a dime of my own money into, that's for sure!  For starters, this company has an identity crisis.  Lifetech recently switched business models from developing Day Spa businesses to developing AirWell Water Systems.
Oh yes…
You can see how the two are easily related- NOT!
But that's just the business side of things.  Financially, it's much worse at LTCH.  You see, in their latest quarter (ending July 31, 2012), LTCH posted just $12,500 in revenue… but had $69,000 in operating expenses.
In the end, the company posted a quarterly loss of $56,800.
But what's really scary is the price action and longevity of the stock.  Take a look at the chart below to see for yourself-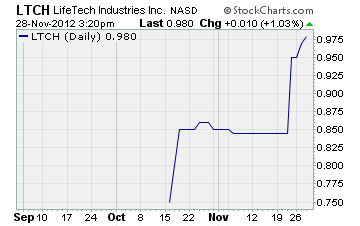 Oh my… a penny stock that's jumped to near $1 in just a month?  This looks like virtually every other pumped penny stock we've covered in the past.  This one just happens to be in the run up phase right now – the PUMP is on!
Given the horrible financials, lack of business focus, and the mere fact this stock is being pumped – I'd keep shares of LTCH far away from your portfolio.
Nilam Resources (NILA)
When I started researching this company, I found their contact info put them in Lima 18, Peru.  Great, another foreign penny stock being pumped…
Right off the bat, you can start questioning their financial data… (An Exploration Stage Company), the header reads.
And things got uglier with each and every step I took into researching NILA.
Before I get to the company itself- this has to be one of the more popular stocks being pumped this week.  In fact, here's a list of all the pumpers sending out emails on Nilam, and how much they've collected to pump the stock…
Stock Exploder-$15,000
StockMister- $15,000
Equity Trading Alert- $6,250
David Cohen (RDI)- $35,000
HotMicroCaps- ? They have a dead link – (shocking, isn't it?)
MicroCap Voice – No actual amount disclosed – they just say they get paid to pump
Penny Chief- $35,000
PerfectPennyStocks- $15,000 (expected compensation)
PennyStockPros- $35,000
So, we have two sites that don't disclose how much they've been paid.  They just tell us they get paid to pump stocks.  That's great… but against SEC regulations!
As for the others, we're looking at a grand total of $156,250 to pump shares of NILA!
Now, back to the company…
As of their latest financial statement, NILA has $692 in cash on the books.  Oh yes, less than a grand.
What's more, Nilam Resources reported $0 revenue and $15,496 in expenses for the quarter.   The total lost for their latest three month period on the books… $244,642.
Finally, NILA has an accumulated deficit of get this… $10 million!
So what does this company do that's so special?
Who cares!  Sane investors should simply look at the financials I just showed you, combined with the mass paid pumping of the stock- and simply pass on by.
Other Penny Stocks Being Pumped This Week
LAFP – Access Media Network Corp. (AKA/ Wall St. Buzz Alerts) was paid $5,000
SVEN – PennyStockAdvice expects to be paid 10,000 Euro for two months of pumping
A final word (and warning).
These are just a few of the potential "pump and dumps" we've seen lately.
Remember, there's a lot more of this going on than we can highlight here.
As you know, penny stocks are a great place to invest your money.  You just have to do your due diligence to stay away from all the schemes and scams out there these days!
Until next time,
Brian Walker
Category: Pump & Dump Alerts