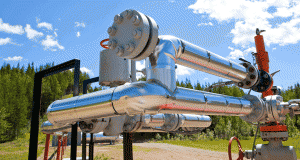 Because of the cyclical nature of business and industries, there are always solid investment opportunities to be found.  All it requires is a little time and research.  It's especially true if the investor has a long-term time horizon to work with.
That being said, my personal favorite medium to long-term opportunity is in natural gas.  The upside potential of natural gas and gas-related businesses is off the charts.
Here's why…
Natural gas in the US has a whole lot going for it.  It's cheap.  It's cleaner than coal and oil.  And, the US has a massive amount of the commodity conveniently located right on our own doorstep.
The hydraulic fracking breakthrough opened up trillions of cubic feet of natural gas for potential production.  As such, a glut in gas inventories developed – significantly pushing down the price.
But… the current, ultra low price of natural gas means significant opportunity exists to invest in the industry while it's dirt cheap.
Here's the deal…
Nat gas isn't just useful domestically.  It's also in high demand on the international market.  For instance, a heavily coal dependent country like China could use gas to meet their emissions reduction goals.
Another example is Japan.  The country plans to replace nuclear power with natural gas and renewable energy as a result of the 2011 nuclear disaster.  Of course, Japan would need to import their gas from somewhere.
Domestically, natural gas can become an important fuel source for vehicles if and when the infrastructure is made available.  Both liquefied and condensed natural gas have potential to replace oil as a transportation fuel under the right circumstances.
What does domestic and international natural gas usage have in common?  They both require a commitment from American government.
While possible, it would be difficult to expand the natural gas infrastructure in the US without government support.  Moreover, the government could mandate the use of nat gas in some or all government vehicles (part of the Pickens plan).
On the flip side, the government has to approve all natural gas export facilities before they can be built.  So far, only one such license has been granted.
In other words, there's still massive potential for gas exports moving forward.
In a nutshell, there are ton of opportunities in the natural gas space with huge upside.  This includes everything from new vehicle fuel tanks and pipelines to export facilities and shipping, and even the commodity itself.
Best of all, many of these businesses are small cap or penny stock companies.  For the long-term investor, now's the time to grab them while they're trading at bargain basement prices.
Yours in profit,
Gordon Lewis
Category: Commodity Stocks, Natural Gas Stocks