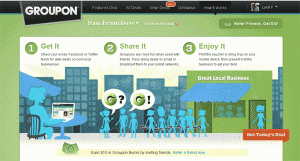 When's the last time you purchased a daily deal coupon from a site such as Groupon (GRPN)?  Chances are, it's been a while.
Recent analysis suggests that daily deal sites are losing momentum, as consumers move on to other methods of deal shopping.  In a nutshell, online daily deals seem to have peaked.
Just ask Groupon. The company has seen its stock price drop roughly 80% from its much anticipated IPO.  Clearly, investors aren't thrilled with the business prospects of this one-time high flyer.
Here's the deal…
The problems with daily deal sites are related to both supply and demand.
On the supply side, there's already a ton of competition in the space.  Groupon may have been a first mover with a huge sales force, but there's simply little to no barrier to entry for other players.
Not to mention, competitors such as LivingSocial and Google Offers are well funded.
And that's just part of the problem…
Customer and business demand is dropping fast for daily deals.  Businesses aren't noticing the type of repeat customers they were hoping to attract through Groupon and similar deals.
And, customers appear to prefer spending money on getting better service, rather than taking a chance with an unknown retailer offering discounts.  In fact, offering discounts can lead some consumers to believe the product is inferior.
So are Groupon and others like it done?
In regard to Groupon, I still think there's life left with the company. 
You see, GRPN management is changing course and focusing on new products and services.  The company's retail marketplace, Groupon Goods, is experiencing rapid growth.
Plus, GRPN has gotten into the mobile payment space.  That's an area rapidly gaining steam, as more and more consumers pay for goods and services with their mobile devices.
More importantly, while Groupon's stock price is certainly disappointing, the company's financials are far better than many realize. After all, the relatively young company is profitable and pulls in over $2 billion a year in revenue.
Plus, management is sitting on $1.2 billion in cash and zero debt.  That gives them a lot of flexibility on what direction they want to take the company.
Here's the bottom line…
I think GRPN has a chance to stay relevant assuming management makes shrewd decisions moving forward.  And, other daily deals competitors will have to follow suit if they want to survive.
Savvy investors, who search for undervalued companies with innovative ideas, may just want to look at the daily deals business for investment opportunities.
Yours in profit,
Gordon Lewis
Category: Investing in Penny Stocks