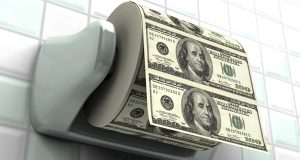 This week we're exposing these three popular Pump & Dumps:  Lone Star Gold (LSTG), XYTOS (XYTS), and Nikron Technologies (NKRN).
That said, welcome to Pump and Dump Friday, where every week we highlight a few of the "bogus" promotions that are going on in penny stocks.
If you don't know how these scams work, be sure to check out this free report that exposes the whole thing.
Without further ado, here are this week's disasters waiting to happen:
Lone Star Gold (LSTG)
I've found a real winner to kick off this week's edition… a gold exploration company by the name of Lone Star Gold.
The way the pumpers talk, you'd think LSTG is Freeport McMoran (FCX) or something.  And there have to be over a dozen different pumpers working on this one… it's an all out assault.  The one we caught getting paid was LiquidTycoon.  Our pumper received $15,000 from Winning Media for a two day "public awareness campaign".
Now, before you get all excited and buy LSTG, let me run my own "awareness campaign"…
For starters, Lone Star is not a mining company… and they have no revenue.  So there's no reason to get all jazzed up about them.  They're still out there prospecting!
And a lack of revenue isn't the only problem… there's also the $930,000 loss they've racked up over the past nine months.  That's an awful lot of money to blow before you make even a single dime.  While some folks might not care, I'll tell you I wouldn't be caught dead holding shares of LSTG.
One more thing before we move on…
My favorite part of LSTG's latest SEC filing has to be on page 14… "The chance of finding gold or other mineral reserves on any individual parcel of land is almost infinitesimal." 
Awesome… where do I send my check?
There's a big coordinated effort out there trying to drive XYTS stock higher…  I've counted over four different pumpers hyping this stock!
Of course, one of our favorites, The Stock Psycho, cashed in for over $35,000 off of XYTS.  Our pumper was paid to hype XYTOS by a third party, Creme Dellatex (that sounds like a cookie-flavored cleaning product or something).
Anyway… what's so special about XYTS?
The company is a biomedical firm focusing on cancer research.  Apparently they're developing a non-invasive cancer treatment.  But they've run into some problems…
XYTS issued an update to shareholders letting them know they've found a new Chief of Medicine… and that they'd be treating patients in the US very soon.  That was over a year ago!
Since then, all we've seen from the company is financial updates…
I went in for a closer look, only to find out the company hasn't had an SEC filing since October of last year… and that was a form 15-12G, which terminates their SEC registration!
Prior to that, their most recent SEC document was from 2001…
So I dug deeper trying to find anything I could about the company's finances.  I did find a robust one page financial statement from October 17th, 2011.  But I wish I hadn't….
Right off the bat, I knew it would be ugly.  You see, the company has no revenue… zero.  Zilch.
And for the first three quarters of the year, XYTS lost more than $260,000.  To make matters even worse, they've accumulated a lifetime debt of over $3.5 million!
They're on a roll for sure…
Let me leave you with this last little tidbit about XYTS… over half their shares are non-tradable restricted shares.  Now that can't be good.
Obviously XYTS has fallen off the beaten path.  Better steer clear of this one…
 Nikron Technologies (NKRN)
This week, Nikron is easily my favorite pump and dumper of the bunch… their financials made me laugh so hard I almost fell out of my chair!
I'll get to the numbers in just a minute.  First, there's a bunch of dirt to share on NKRN… and I'm not holding back.
It's clear, Nikron made our list because someone has been paying to hype their shares.  In fact, we caught NYC Marketing with their hand in the till for 20 large (that's $20,000).
But that's the least of an investor's worries.  You see, Nikron is in the oil extract business.  Well… they're almost in the oil extract business.  The fact is, they're still developing their oil recovery technology.  They "plan" on buying old oil wells eventually.
But that day may never come…
For starters, NKRN has no filings with the SEC… not exactly the sign of a quality investment.  But the financial info I did find on the company was downright awful.
First off, Nikron isn't generating any revenue.  And to make matters worse, they're actively losing money.  This year alone, the company has racked up a $144,125 loss.
If this isn't enough to keep you away from NKRN, here's something to really scare you off…
Nikron has been growing their outstanding share count every single quarter this year!
As of 3/31, there were 19.9 million shares of NKRN in existence.  But wait, there's more…
As of 6/30, over 30 million shares of NKRN were outstanding.  But wait, there's more…
As of 9/30, there were – stay seated now… 395,558,050 shares of NKRN!  That's a 10x multiple… except it's not earnings growth we're talking about.
Be wise my friend… avoid NKRN like the plague!
A final word (and warning).
So that takes care of a few of this week's inglorious "pump and dumps".
Remember, there's a lot more of this going on each week than we highlight here.
As you know, penny stocks are a great place to invest your money.  You just have to do your due diligence to stay away from all the scams out there these days!
Until next time,
Brian Walker
Category: Pump & Dump Alerts