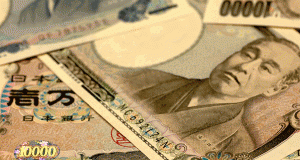 Payback's a bitch, as they say… and it is payback time for the Japanese government.
Over the past few months, the Yen has sold off at a virtual unheard of pace.  Take a look at the chart to see for yourself…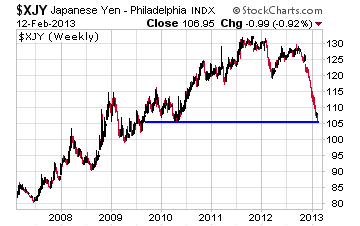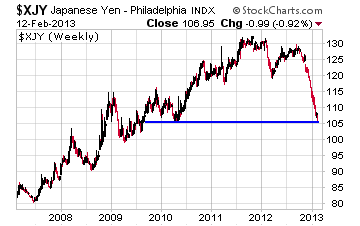 That's one heck of a free fall… a 16% collapse in less than five months!
Well, the massive sell off has garnered the attention of the G-7 and G-20.  In fact, the Group of Seven nations released a statement Tuesday expressing concern over the recent move in the Yen.  They stated that fiscal and monetary policies must not be directed at devaluing currencies.
More directly to the point, a G-7 official said, "The G-7 statement signaled concern about excess moves in the Yen."
Like I said… it's payback time.
The powers that be in the G-7 clearly are not happy that Japan is manipulating their currency- even if they are trying to boost their economy and escape a deflationary cycle… which Japan's Finance Minister says is the reason behind it.
In fact, another analyst I chat with regularly is Karl Stevenson… the currency expert over at The Currency Option Insider newsletter.  Last time I chatted with Karl, he pointed out that it wouldn't be long before G-7 members would start barking about the manipulation of the Yen.
He saw this response coming months ago…
You see, when a currency falls, it gives that country's exporters a clear pricing advantage over other competitors.  And that's pretty much EVERYONE now that we're in a global economy, as Karl pointed out.
To correct the situation, Japan will have to back off on any direct intervention in the currency markets- even if that means a stronger Yen.
So what does this mean to equities, particularly penny stocks?
Well, for starters, we just might see a pullback in the Asian stock market as the Yen rises… particularly in Japanese stocks.
As far as penny stocks are concerned, the suppliers to major Japanese corporations could also take a hit if the Yen strengthens from here.  And with the G-7 telling the world they're not pleased with a manipulated Yen, we're going to see some kind of a rebound in the currency.
With that said, now may be a great time to cash in on any gains you may have in these types of penny stocks.  While the direction of the Yen may not affect them, it's certainly not going to be any help.
And you really don't want to leave gains on the table when a real negative fundamental catalyst is on the horizon…
Until next time,
Brian Walker
Category: Penny Stock Tips