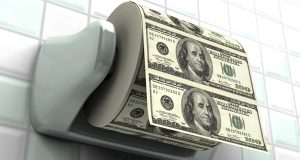 This week we're exposing one of the most popular Pump & Dumps:  Itonis (ITNS).
That said, welcome to Pump and Dump Friday, where every week we identify at least one of the many potentially "bogus" promotions going on in penny stocks today.
If you don't know how these schemes work, be sure to check out this free report that exposes the whole thing.
Without further ado, here is today's "disaster waiting to happen":
Itonis (ITNS)
This is a first…
Itonis is the first company I've written up in three separate calendar years for being pumped… 2011, 2012, and 2013!  I guess the pumpers like to go back to their old favorites time and time again – like a favorite pair of jeans.
Let's get the paid pumping out of the way…
Mad Money Penny Stocks, a Tribeca Investments company, was paid $60,000 to "promote" ITNS.  And they're not alone.  Some of the other names pushing this stock, paid or not, include MBSA and Hot Stock Profits – both known paid pumpers.
Now, let's go back into the time machine and see where we left ITNS…
Just so you know, ITNS filed with the SEC to terminate their stock registration back in January of 2011.  And then in May of 2012, we exposed a pump and dump being run by Club Penny Stocks for $25,000… and that was when the stock traded around $0.04 a share.
So how has the stock fared since May of last year?  Let's take a look at the two year chart of Itonis…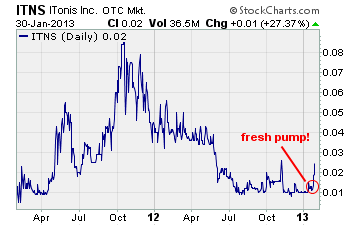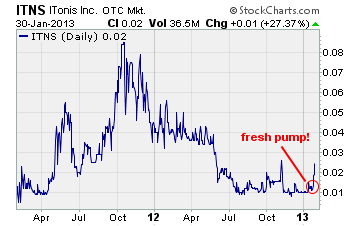 As you can see, this penny stock lost over 75% of its value since May of last year when it was trading at $0.04.  It made it all the way down to $0.01 before the fresh pump was rolled out… which you can see on the spike in the chart.
To be fair to the company, let's see if there's a reason for this jump in share price…
Well considering the company's cash fell from $2,418 down to $160, we're not off to a good start.  Better yet, ITNS has an accumulated deficit of $5.1 million!
Ok, ok-I'm trying to be fair.  Let's see if they've made any money since we last left them…
Uh, that's a big NO!  For the nine months ending August 31, 2012- ITNS generated $0 revenue.  But they do have a "change in fair value of share liabilities" they've listed on their earnings report for $1.04 million.
Huh… how's that revenue?
They're posting income of $637,327 off this transaction.  How can they post a profit if they don't SELL ANYTHING?
Sounds like fishy accounting to me… the kind the SEC probably would look down upon if the stock were regulated.
The share count, however, did rise from 244 million to 291 million – at least that's one gain (not a good one though).
After looking at the facts and not the pumper's "BS"- let's hope you avoid picking up shares of ITNS!
Other Penny Stocks Being Pumped This Week
RBCC – OTC Stock Pick was paid $30,000  
GSAG – RDI and their affiliates were paid $75,000 by Classic Distribution LTD
A final word (and warning).
This is just one of the potential "pump and dumps" we've seen lately.
Remember, there's a lot more of this going on than we can highlight here.
As you know, penny stocks are a great place to invest your money.  You just have to do your due diligence to stay away from all the schemes and scams out there these days!
Until next time,
Brian Walker
Category: Pump & Dump Alerts