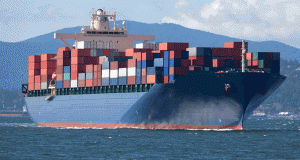 I wanted to go back and revisit an article I penned on the shipping industry last October 9th.  In it, I pointed out that it had been a rough few years for the shipping industry.
My takeaway was that we were seeing the development of a "major bottom" in shipping rates- and thereby shipping stocks.  Let's take a look at the multi-year chart of the Baltic Dry Index (BDI) I posted last October…
Clearly you can see why I believed we were coming close to a bottoming of shipping rates… the support remained pretty strong around $650.  In addition, I advised that all of the fresh economic stimulus from the ECB and the Fed would spur global growth – thereby boosting shipping demand and shipping rates.
The thought was, even though there was plenty of capacity in the shipping industry, certain types of vessels would soon see higher demand (due to pending natural gas exports from the US).
Let's take a look at where the BDI is today…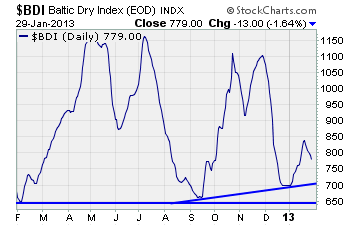 I'd say things are looking good for shipping rates at the moment.  Ultimately, it looks like the bottom for shipping rates is in, and by proxy shipping stocks might start to rise.  Looking at the blue trend line above, you can see how the BDI is making higher lows… which is a good trend.
So where are shipping stocks heading next?
That's difficult to say for a number of reasons.   First off, there are some interesting practices in the shipping industry which seem short-term bullish for stocks.
Shippers have been engaging in Vessel Sharing Agreement (VSA), as well as Voluntary Discussions Agreement (VDA).  These are reportedly common practice in the shipping industry.
While VSAs allow for companies to share space in each other's vessels, VDAs allow for exchange of market information between competitors.  In the US, we consider this type of activity as illegal "price fixing".
But for the beaten down shipping industry, it seems as if anything goes to survive.  You can see how this would allow shippers to refuse lower shipping rates if they know their biggest competitors have all agreed not to undercut a set rate.
Interestingly, in India, The Ministry of Corporate Affairs is reviewing whether they'll continue allowing such pacts by shipping industry players to remain "off limits" to the country's fair-trade regulator CCI (Competition Commission of India).
Here's the kicker…
Many shippers will continue to share this information since the CCI isn't taking action (yet).  And there's a good chance they're also exchanging rates for all global routes regardless of laws in other countries.
That may be part of why the BDI is holding up right now…
While shady agreements may be bullish for the time being, there are oversupply issues still at play for shipping companies.  Remember, many of the shippers placed big orders in the height of the shipping boom – and now these orders are being delivered (ships take years to build).
That could continue to present a headwind for shipping stocks for quite some time.
The bottom line…
We've yet to see higher highs in the BDI even though the bottom may be in.  And even with rates being "fixed" by shippers, what's needed is good old-fashioned organic growth and demand.
Without an increase in global demand for oceanic transportation, the BDI will have a difficult time making new highs and shipping stocks will probably remain suppressed.
Until next time,
Brian Walker
Category: Investing in Penny Stocks