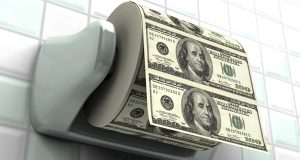 This week we're exposing this pair of popular Pump & Dumps:  Global Security Agency (GSAG) and Tamm Oil & Gas (TAMO).
That said, welcome to Pump and Dump Friday, where every week we identify a few of the potentially "bogus" promotions going on in penny stocks today.
If you don't know how these schemes work, be sure to check out this free report that exposes the whole thing.
Without further ado, here are today's "disasters waiting to happen":
Global Security Agency (GSAG)
We've got a hot one here…
GSAG is being pumped by one of the current big boys of the pump and dump game right now… RDI.  Instead of telling you directly, here's the text directly from their disclaimer that's not so easily found at the bottom of their emails…
"RDI, aka Research Driven Investor llc expects to be compensated seventy five thousand dollars cash by Classic Distribution LTD, a non-affiliated third party to profile GSAG for a five day investor relations campaign."
Yes, that's $75,000 cash.  And I just love how these pumpers make it sound so official… "investor relations campaign".  Uh, you're intentionally leaving out important financial facts about the company- I'd say that's crappy investor relations at best!
They're happy to tell you all about a contract GSAG just locked up with an exciting title to the press release… Global Security Agency Inc. Announces China Support Services Growth Explosion.
Again, I'm going to let the press release do the talking for me here-
"Global Security Agency Inc. (the "Company"), a leading provider in logistics, support training, personal protection, security intelligence work and risk analysis for clients worldwide, announced today that it has signed a Support Services Agreement with Pan Asian Chemicals, a certified contractor within China…"
How exciting!
But let me ask… how will this agreement impact their top line?  Certainly they can expand on how this "explosive growth" is impacting revenues, right?
I can hear the pumper now… "Oh, Brian… such silly questions you ask.  Just drink the Kool-Aid and shut up, will you?"
Well, I can't.  It's not in my nature.  For your benefit, here's what I uncovered on GSAG.
GSAG posted a whopping $953 in revenue for the first 9 months of 2012.  Better still… they posted $0 revenue in the last quarter (ending September).  Now that's what I call explosive growth!  For a comparison, GASG pulled in over $433,000 for the first 9 months of 2011.
That's a virtual free-fall in revenue.  I'm thinking we have a simple translation issue here… growth explosion.  Fellas, it doesn't mean your growth was blown apart- and came crashing down.  That's not how people will read it.
Must be an "English as a second language" trained writer pushing out their press releases over there!
What's more, the company posted a loss of $652,040 for the first 3 quarters of 2012.  No wonder why the stock is trading at just $0.01.
Needless to say, you can ignore what the pumpers are pushing out on this stock.  I'll say this in plain English…
Get out of this stock if you currently hold shares- and avoid buying them at all costs!
Tamm Oil & Gas (TAMO)
Yet another high quality stock being pumped that NO ONE should be investing in- so let's hope you're not holding shares.
But of course, listening to the pumpers… TAMO is the next greatest thing!
They found some foreign analyst to tell you how undervalued Tamm Oil and Gas is because of a joint venture they're involved in for some oil sands in Canada.  So what's the scoop?
Here's an excerpt from the pumper's email-
"Ernest C. Schlotter, a senior analyst with Zurich, Switzerland-based SISM Research and a four star analyst according to StarMine, has issued an update on TAMM Oil and Gas Inc. (TAMO) in a four-page report dated December 24, 2012, which includes an overview and asset valuation on its ownership it holds through the Joint Venture agreement with CEC North Star Ltd based in Calgary, Canada."
Of course I couldn't help but check out that four-page report for myself…
After a glowing review, I checked out the disclaimer at the bottom of the report.  I'm not shocked to find what I saw-
"Morgarten Financial Services ("Morgarten") paid SISM Research ("SISM") an initial retainer of six thousand eight hundred and fifty US dollars to resume continuing coverage of TAMM Oil and Gas, and Morgarten is under contract and is paying SISM an ongoing fee of one thousand eight hundred and fifty US dollars per month over a two-year period to ensure continuation of SISM's independent coverage of TAMM Oil and Gas." 
Now, did the pumper disclose the report was nothing more than paid equity research?
Of course not… they themselves were paid to simply tell you all the good stuff about this company- and ignore the reality of their financial condition! 
For that matter, quite a few pumpers were paid off by James Allen Group to hype up this stock.  The James Allen Group paid $3,000 to Penny Stock Explosion and $4,000 to Major Penny Stocks– among others.
There's lots of money being spread around here to get you excited to buy this stock.  But the reality is if you buy these shares… you're wasting your money on a loser of a company.
Here's the scoop…
TAMO has $0 cash– yes $0.  In fact, the company has just $817 in "other" current assets.  That's not likely to go far in offsetting their $629,000 in current liabilities.
The really big issue here is that Tamm generates no revenue… as in $0.   And if that's not enough to keep you from buying shares, then maybe a $10 million loss on their oil and gas properties will.
For the latest quarter, TAMO posted a total loss of $10.8 million! 
But what can you expect from a company that used to be in the wireless broadband access industry.  Oh, I guess the pumpers forgot to tell you that too.  Tamm used to go by Hola Communications before jumping head first into the oil and gas industry.
I really don't know what that analyst over at SISM was thinking when he rated shares of TAMO so highly.  Oh, right- he was paid off to write his own glowing report about the company… that's why.
The takeaway for you is simple- never listen to pumpers hyping up a company with $0 revenue and a $10 million loss!
Other Penny Stocks Being Pumped This Week
FARE – Penny Stock Advice expects to be paid €10,000
OBJE – OTC Stock Pick was paid $30,000
A final word (and warning).
These are just a few of the potential "pump and dumps" we've seen lately.
Remember, there's a lot more of this going on than we can highlight here.
As you know, penny stocks are a great place to invest your money.  You just have to do your due diligence to stay away from all the schemes and scams out there these days!
Until next time,
Brian Walker
Category: Pump & Dump Alerts