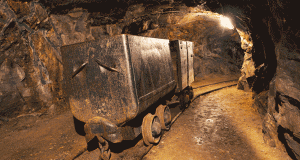 We're just a few days away from 2013, so it's definitely a good time to think about what industries could be the top performers in the coming year.
In 2012, two of the biggest winners were homebuilders and mortgage finance.  On the other hand, the mining industry had a rough year.  Gold miners, coal miners, and other basic materials companies suffered due to lower commodities prices and the global economic slowdown.
Now, it wasn't a completely lost year for smaller mining companies.  In fact, the Global X Junior Miners ETF (JUNR) is up 3% year to date.  (JUNR is comprised of junior miners across a broad spectrum of mining industries.)
That's not a terrible result, but compared to the S&P 500 or Russell 2000 (both up roughly 15%), it's a significant underperformance.
Here's the thing…
I believe 2013 is going to be a great year for junior miners.
First off, the economy is doing better.  Most key indicators show improving economic growth.  This is especially pertinent to the construction industry, which is experiencing a strong increase in demand.
That's important because metals are a key component of construction.
What's more, China's economy appears to be righting itself.  And don't forget, when China is growing, there's huge demand for raw materials coming out of the world's most populous country.
And that's not all…
The world's central banks are engaging in easy money policies meant to flood the global economy with liquidity.  Without going into too much detail, excess liquidity should result in higher commodity prices.
Of course, higher commodity prices typically result in higher revenues and profits for mining companies.
So should you add junior miners to your portfolio?
Well, there are plenty of first-rate junior miners trading at penny stock prices.  But, the JUNR ETF isn't a bad option either.  It includes companies that mine gold, coal, silver, iron, aluminum, titanium, rare earths, nickel, copper, and more.  That's quite an extensive list.
Whether you pick up individual junior mining companies trading at bargain basement prices or grab shares in JUNR, now's a good time to buy.  I expect 2013 will be a nice year overall for junior miners.
Yours in profit,
Gordon Lewis
Category: Investing in Penny Stocks, Penny Stock Tips