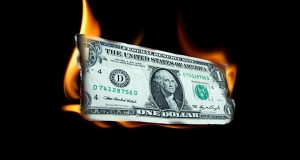 Welcome to today's Pump and Dump Alerts, where we will be exposing these two companies:  GMX Resources (GMXR) and Oryon Technologies (ORYN).
Here we identify a couple of the potentially "bogus" promotions going on in penny stocks today.
If you don't know how these schemes work, be sure to check out this free report that exposes the whole thing.
Without further ado, here are today's "disasters waiting to happen":
GMX Resources (GMXR)
GMX Resources is an independent oil and natural gas exploration and production company.  GMXR has a portfolio of leasehold acreage in multiple resource plays.  While GMX may have lost $42 million in the first three months of 2012, they're not necessarily a "pump and dump" stock.
What's happening here is the pumpers bought shares prior to publicly touting this company.  They're looking to make a profit for themselves through their efforts.  Normally, they're paid to pump a stock for a "third party."  Who knows when or how they'll dispose of these shares.
Right now, shares of this penny stock trade around $0.95.
Investor Soup and Micro Stock Profits bought 10,000 shares of GMXR at $0.96 prior to pumping the stock.  They "reserve the right to sell these shares at any time." 
Oryon Technologies (ORYN)
Oryon Technologies develops and markets flexible electroluminescent lamps and drive electronics for applications in various industries. ORYN also licenses its electroluminescent lamp technology in North America and the Asia Pacific. Earlier this year, ORYN changed their name form Oryon Holdings to Oryon Technologies.  Oryon Holdings was involved in the mineral and precious metal exploration.
Two weeks ago, we exposed a pump and dump scheme being run on shares of ORYN.  Back then, the stock was trading at $1.25.  Shares have fallen and now trade at just $0.92.
Penny Stock Market Bulls was paid $10,000 to tout shares of ORYN.
A final word (and warning).
These are just a few of the potential "pump and dumps" we've seen lately.
Remember, there's a lot more of this going on than we can highlight here.
For more in-depth coverage of potential penny stock pump and dumps, be sure to sign up for our free newsletter, Penny Stock Research.
As you know, penny stocks are a great place to invest your money.  You just have to do your due diligence to stay away from all the schemes and scams out there these days!
Until next time,
Brian Walker
Category: Pump & Dump Alerts, Pump & Dump Daily