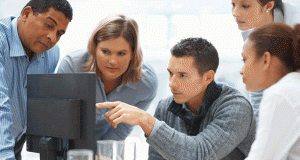 People love the internet.  Yes, that's the most obvious statement in history, but still.  I'm not sure you realize just how much people love their web.
According to Cisco Systems (CSCO), the world's largest networking company, in 2011 there were roughly 10.3 billion internet connections being used.  That's roughly twice as many connections as there are people… in the entire world.
And that just scratches the surface…
You see, based on CSCO's most recent annual survey, the company determined there will be 18.9 billion internet connections by 2016.  That would translate to 2.5 connections for each person on Earth.
That's a staggering number if you think about it.  But it does make sense.
The proliferation of internet connectivity is due to the astronomical growth of mobile internet devices such as smartphones and tablet PCs.  That market is just going to keep growing and growing.
In fact, CSCO believes video for entertainment and business is going to be a big driver of future bandwidth consumption.
Keep in mind, places like China, India, and Brazil have millions of people without any modern mobile devices (or any connectivity whatsoever in some cases).  As technology becomes more affordable and economies improve, more and more individuals will come online.
And that doesn't even account for technological innovation in advanced countries.  You can bet there will be new and exciting ways to get online in the coming months.  In other words, even more connections per person.
Here's the thing…
Cisco is using the report as a reason to be long-term bullish on their stock.  They are the industry leader after all, and stand to gain the most from increased bandwidth usage.
However, I think there are several opportunities to profit from the coming boom in mobile internet connectivity.  Of course, many of the best bets are in small cap stocks.
Think about it…
Much of the growth in internet usage is coming from mobile devices.  Products like smartphones, tablets, and more are flying off the shelves.
Not only is there a ton of competition in that space, there are tons of vendors and accessories makers thriving off the industry.  Basically, there's more than enough business to go around.
Think of all the businesses that are involved in the mobile internet sphere – device hardware, software, networking, data storage, connectivity services, security, and much more.
Best of all, there are a multitude of small cap stocks in each of those industries.  A little research can help savvy investors identify companies with the best chances to capitalize off this exciting trend.
Yours in profit,
Gordon Lewis
Category: Internet Stocks