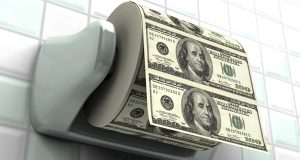 This week we're exposing this pair of popular Pump & Dumps:  Global Resource Energy (GBEN) and Superior Venture (SVEN).
That said, welcome to Pump and Dump Friday, where every week we identify a few of the potentially "bogus" promotions going on in penny stocks today.
If you don't know how these schemes work, be sure to check out this free report that exposes the whole thing.
Without further ado, here are today's "disasters waiting to happen":
Global Resource Energy (GBEN)
They're back…
Oh yes my friends, the pumpers are back hawking shares of GBEN to the unsuspecting sheep.  This time, the ever-scummy Research Driven Investors, aka David Cohen, was paid $100,000 by Classic Distribution, LTD to do the pumping.
The previous pump was run by Epic Stock Picks- and that was for just $25,000.  Things must be getting desperate, and judging by the tactics being used- they are…
"Oh, you missed a 188% gain", our pumper decries.  Really?  I missed a 188% gain?  Wow, I should quit this pump and dump game.  Except, I have a little bit of info I need to share with you on Global Resource Energy that the pumpers will never tell you.
For starters, we exposed this POS stock back in July and September.  Back in July, shares were trading at $0.43- yes… 10x where they are now!  And in September, you could still sell them for double what they're trading at today- all of $0.13.
Back then I showed you a chart of how we called out the dump about to happen.  In fact, here it is…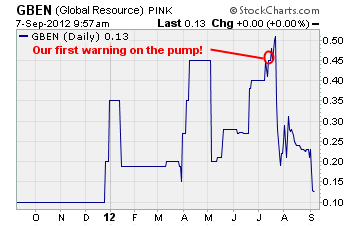 See, I'm not lying to you.  Boy, if shares were available, I would've shorted this pig myself (except I never go long or short anything I writing about in my pump and dump alert).
But ask the pumpers about the previous round of pumping and they'll be stammering for excuses.  "Who us?  No no, we just found this great company!"  Whatever you say.
Basically, the fundamentals on GBEN were crap before – and now, let's just say nothing has improved.
GBEN posted yet another quarterly loss in July (yes I know it's December… but this is the most recent financial report).  July's quarter showed a loss of $85,000 which is more than the previous quarter's $77,000 loss.
That's not the right direction fellas…
What's more, GBEN still has $0 cash and generates $0 revenue.
Still want to buy the stock?
Well, get a load of this- share count grew from 171,000 shares in July of 2011, to over 71,170,997 as of this past July!  Now we know how they're surviving… they're handing you paper shares and taking your hard earned cash in exchange!
For those unsuspecting investors stuck holding this stock, I beg you… get out.  You are holding nothing- air- with virtually no chance of long-term gains.  In fact, I doubt this stock will even exist in 12 months!
Superior Venture (SVEN)
I've got your superior alright… it's the superior line of BS Victory Stocks is pumping out on this stock.  Here's the best they can come up with to get you to buy SVEN…
".. traded 3 million shares"
"…strong support"
"our last pick was up 400%"
Really, that's it?  For €10,000 in compensation you expect to receive but have NOT yet received- that's all you can come up with?
I can see I'd make some easy money if I went over to the dark side- that's for sure.  These pumpers have the creativity of a dried up grapefruit!
I mean, come one… at least talk about the fact the company is in agreement on a picture with Wuxi Studios to co-develop a $15 million motion picture for both the domestic Chinese market and the oversea international market.
Well, I could care less about the "picture" in question…
I want to know about the financials before I lay any cash on the table.  And from what I see, there's no chance of that happening- EVER!
First off, SVEN is a developmental stage company- with all of $9,500 in cash and $0 in revenue.  They DON'T MAKE MONEY YET.
So why buy shares?
Well, that's a great question.  Maybe you could share in the $2,306 loss they had last quarter.  That's a real reason to buy the stock.  Or you could watch a 35:1 stock split happen, which was authorized on September 11, 2012 by the company.
This is where it gets fun…
Reading through the financial report for the July quarter, the business model on the 10-Q was "a principal business objective of selling wine varietals."
Hey, look Mom, no hands… I'm going into the wine business.  Wait… I'm going to be a film maker.
What, are we talking to a 5 year old kid here about what he wants to be when he grows up?  Seriously… get a grip man!
Just so you know what you're getting into with this $0.26 stock (after a 35:1 split)… I'm leaving you with a chart that should make your decision NOT to buy these shares crystal clear-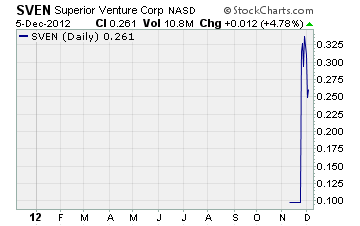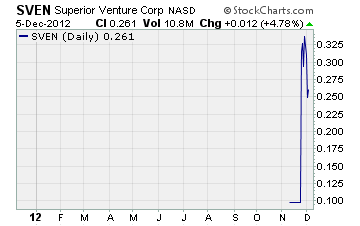 Other Penny Stocks Being Pumped This Week
GGSM – Blue Horseshoe Stocks was paid $6,000
GNGR – Major Penny Stocks was paid $7,000 by Microcap Innovations, LLC
A final word (and warning).
These are just a few of the potential "pump and dumps" we've seen lately.
Remember, there's a lot more of this going on than we can highlight here.
As you know, penny stocks are a great place to invest your money.  You just have to do your due diligence to stay away from all the schemes and scams out there these days!
Until next time,
Brian Walker
Category: Pump & Dump Alerts