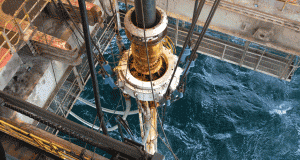 This week, we have another great example of why you should allocate at least a small portion of your portfolio to speculative stocks.  It's all about the upside.
Just look at what happened to McMoRan Exploration (MMR).
Now, MMR isn't a penny stock (it was a fringe small cap stock before yesterday's deal), but there are plenty of penny stocks in the same industry.  In fact, many oil & gas exploration and production companies are penny stocks.
McMoRan is a well funded, advanced stage E&P company, but a speculative company nonetheless.  And, their big project is a very risky venture known as the Davy Jones well.
You see, Davy Jones will be the deepest well ever drilled and could unlock trillions of cubic feet of natural gas under the Gulf of Mexico.  However, there are a lot of risks with the project and it's possible it will never come online.
Still, if you've done your research on MMR, you'd see the CEO, Jim Bob Moffett, is known for taking big chances… and succeeding.
The company has spent roughly $1 billion on the Davy Jones project and it's highly unlikely that investment was going to be wasted.
Savvy investors realized this – and so did mining giant Freeport-McMoRan (FCX).  That's why FCX snatched up MMR for $3.4 billion in cash (closer to $2 billion if you include the shares Freeport already owned).
MMR shares exploded, closing up 87% on the news.  While shareholders may have been holding out for the Davy Jones jackpot, they certainly can't complain about the results.
Here's the thing…
This sort of deal can and does happen with oil and gas E&P companies on a regular basis.  Freeport happened to be looking to expand into oil and gas.  But, major oil companies are also frequently looking to add to their reserves.
And as I mentioned earlier, many E&P companies are penny stocks or small caps.  In other words, they're affordable and have a ton of upside potential.
With a little time and research, shrewd investors can sift through the multitude of oil and gas penny stocks and find the ones with the most upside potential.  First-rate E&P companies have the ability to strike the mother lode in terms of oil and gas or they can make ideal buyout targets.  Either way, the shareholders win.
Yours in profit,
Gordon Lewis
Category: Investing in Penny Stocks, Penny Stock Tips