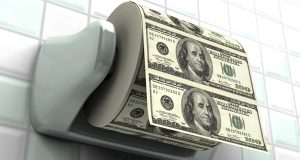 This week we're exposing these three popular Pump & Dumps:  For The Earth (FTEG), Steele Resources (SELR), and Lone Star Gold (LSTG).
That said, welcome to Pump and Dump Friday, where every week we highlight a few of the "bogus" promotions that are going on in penny stocks.
If you don't know how these scams work, be sure to check out this free report that exposes the whole thing.
Without further ado, here are this week's disasters waiting to happen:
For The Earth (FTEG)
Just as soon as I think I've seen it all, I come across a company like FTEG.  Now, before I dig into the company and the pumper's promo email…
The one thing that stands out most is that deceased promoter, Billy Mays, still adorns their home page.  Come on guys… have a little respect and take poor Billy's photo down.  Apparently FTEG has such little cash, they can't even pay their web designer, Mandarich Media Group, to update their website for them!
Of course, while on their website, I went to their "Investors" page to see the latest.  But there's nothing there!  The only link takes you to an OTC quote for their stock… which by the way is trading for a whopping $0.0006.
And the lack of any information on their website leads me to question the pumper's latest email…
The Stock Mister fired off an email titled, "For The Earth Adds Another Retailer for Continued Growth in 2012".  And as I read through the email, the pumper cited a "Press Release Source" of For The Earth Corporation.
In this email, the "Press Release" dated 10/24/11 has FTEG's CEO, Nelson Grist, talking about a retailer their company landed a deal with for 2012.  But they never disclose the name of the "major mass retailer".  That's a red flag right there …
The CEO goes on to say, "I'm eager to announce the identity of this retailer, but that will understandably need to wait…"  Really, why do we "understandably need to wait" Nelson?  I, for one, question the existence of said "major mass retailer"… and I'm pretty sure plenty of other investors may as well.
Simply put, if a major sales outlet is ready to sell your product… logic would say you'd scream it from the mountain tops!  Even better, you'd put that particular press release on your website, and even in your financial filings.
And that brings us to yet another issue with For The Earth… they cancelled their SEC registration back on May 5th last year! 
If you're not convinced yet to stay away from this stock, let me give you one more reason… their financials.
Revenue fell from $145,937 for the first nine months of 2010, to $69,593 for the same period this year.  A drop of over 50%!  Even worse, expenses rose from $533,768 in 2010 to over $600,000 in 2011 for those same nine month periods.
And the company is really on the ropes right now…
Cash balances, as stated on page seven of their latest financial report, amount to just $19,000.  The company even states that unless they are successful in raising more cash for operations, the company will survive for "approximately one year".
It looks to me like For The Earth is headed six feet under the earth!
Steele Resources (SELR)
For some time now, we've witnessed company after company entering the mining industry.  And most are nothing more than a lottery ticket penny stock.  It reminds me of tech companies back before the bubble burst in 2000.
If you recall, it was IPO after IPO of nonsense tech companies. And then boom… that online poodle grooming website that was a lock to be the next best thing blew up and was actually worthless!
And today we have Steele Resources…
Now before I run through SELR's disastrous numbers, I have to laugh at the pumper's email… because it sure does catch your attention.  Stock Roach rolled out an email titled, "SELR pays out 70% and I'm already stoked for Monday!"
My first thought after reading this was SELR was a rare penny stock paying out a 70% dividend… must be a productive and undervalued miner!"
But boy was that the farthest thing from the truth!
What our pumper was saying is that Steele Resources shares shot up over 65%.  Uh, guys… Finance 101.  When you say a stock "pays out", it means dividend payout… not stock appreciation.
Now on to the heart of the matter…Steele Resources' numbers.
SELR saw revenue rise from $635 in 2010 to $35,435 as of September 2011.  But unfortunately, their liabilities grew as well.  In 2010, the company had current liabilities of $379,343.  And as of this past quarter, SELR ran the total to over $1.7 million!
It looks like SELR will need to unearth a heck of a lot of ore to dig themselves out of this mess.  And you won't catch me buying any of their shares any time soon!
Lone Star Gold (LSTG)
I'd of thought we'd have run this revenue-free miner clear out of the Wild West by now.  Or at least the pumping machine would have run out of steam.  Yet somehow my last warning wasn't loud enough…
That's because the hype machine is running 24-7… and there's only one of me.  But I'll promise you now… that won't keep me from shining the light into dark places.
Before today, I've written about LSTG four other times… so this makes number five!  And since my latest update on December 9th, the company has found yet another way to rack up more debt!
In a Lone Star Gold press release dated December 20th, the company disclosed they drew down another $200,000 of their $15 million line of equity agreement.  It's the third draw down they've taken from North American Gold Corp (NAGC)… their Hong Kong based equity investor.  And in turn, LSTG handed over 273,972 shares to NAGC.
How again is that good for shareholders?
Listen, the company still has no revenue… and is living off of equity investments to keep operations running.  Someday, they may just find gold in them thar hills.
But here's some food for thought.  I bring your attention back to what LSTG said on page 14 of their latest report…
"The chance of finding gold or other mineral reserves on any individual parcel of land is almost infinitesimal."
Before setting LSTG up with a $15 million equity line, I wonder if NAGC caught that little detail.
Hmm, makes you kind of wonder…
A final word (and warning).
So that takes care of a few of this week's inglorious "pump and dumps".
Remember, there's a lot more of this going on each week than we highlight here.
As you know, penny stocks are a great place to invest your money.  You just have to do your due diligence to stay away from all the scams out there these days!
Until next time,
Brian Walker
Category: Pump & Dump Alerts