As 2011 comes to a close, it's time to take a careful look at our investments to assess strengths and weakness.  Do we have too many growth stocks… or too few value stocks?  How you diversify your portfolio is important.
So if you want 2012 to be a better year than this one, now is the time to use the insight of others to bolster our portfolios.
What am I talking about?
You need to follow the insiders!  That's right, you want to buy shares of stock where corporate insiders are consistently buying more and more.  And I'm not talking about executives who are merely exercising stock options or anything like that. 
No… I'm talking about insiders who take their cold, hard cash and pony up like the rest of us to own more of the company they work for.  I see this as a strong indicator of a company worth owning.
You see, if insiders are buying shares hand over fist even when the stock is falling… you've got to believe they know something about the company that makes the shares worth buying.  In fact, if their trading their own cash in for shares, it's a good bet they believe the stock is undervalued!
That's what's going on over at Coldwater Creek (CWTR)…
If you've followed this stock, you know that 2011 has been a rough year for the company.  The stock is down over 65% with just a few days to go.  Revenues have fallen off a cliff, with same store sales dropping over 20% in the third quarter!  And, Coldwater is losing money…. to the tune of $0.30 per share.
What's more, Coldwater had to do a dilutive secondary offering in October at $0.85 per share.  What I find interesting is the sheer volume of insiders buying up shares during this offering.
In fact, CEO Dennis Pence snatched up over 8.2 million shares, costing him a cool $6.9 million!  And that's after he went on a buying spree in September.  Apparently, the CEO purchased over 1.2 million shares with prices ranging from $0.94 to $1.40. 
And he's not the only one…
A number of directors, officers, and employees have been buying up shares throughout 2011.  In fact, so many insiders are buying shares… they collectively own over 18% of the company! 
There's no doubt heavy insider-buying at CWTR is a great sign the shares may be headed higher.  But here's one more great reason to add shares of this penny stock to your portfolio…
Coldwater Creek is trading below book value of $1.07.  Take a look at the chart below…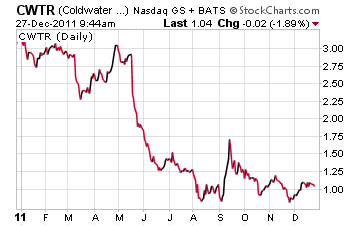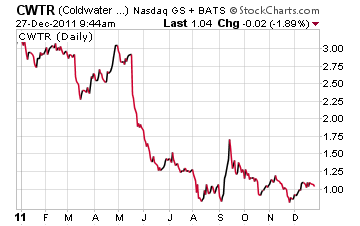 Bottom line… you can now buy the stock for less than what the parts of the company could be sold off for. 
Remember, if you're looking for ways to beef up your return in 2012, consider companies with strong insider buying.   And since insiders at CWTR think the shares are worth buying, you may want to as well.
Until next time,
Brian Walker
Category: Penny Stocks to Buy, Penny Stocks to Watch, Retail Stocks