I'm going to show you a chart, but you may want to look away.  It's a bit scary.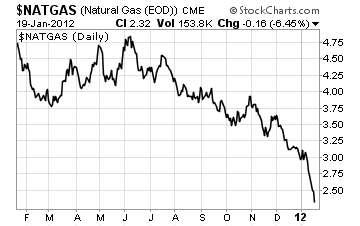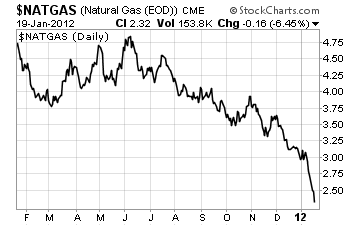 Yep – that's natural gas.  And one look at the chart shows pretty clearly what direction this commodity has been headed.
It's pretty much straight down.
In fact, natural gas just breached the decade-low price.  And sellers don't seem to have any intention of letting up.  What's more, just about every talking head on CNBC, along with most articles you can find, are adamant the decline in natural gas isn't finished.
Apparently, the "experts" feel producers are better off giving away natural gas for free.
Here's my take…
Natural gas is oversold and it's time to buy.
Why is my opinion so different than nearly everyone else's?  Am I smarter than all the nat gas bears?
Look, it's simply a matter of fundamentals.  And at these prices, natural gas is just too darn cheap.
Yes, I realize we have huge supplies of the commodity.  I understand that a warmer than expected winter decreases demand.  And yes, nat gas is often a byproduct of drilling for oil… so some of it can be had for dirt cheap prices. 
But many other methods of extracting natural gas are quite a bit more expensive than what it's priced at now.  Do you think fracking is cheap?
If a few companies start shutting down their unprofitable wells, the inventory glut you here about so often will go away in a hurry.
And the weather forecast… please.
Since when has the weather become predictable?  Do you realize that it's just as hard to predict the amount of snowfall as it is to guess when a tornado will hit? 
There could be a gigantic winter storm that materializes by next week.  I don't know about you, but I'm not willing to risk my hard earned dollars on a weather forecast.
And that's not all…
Oil prices are once again on the rise.  Crude oil is over $100 a barrel.  And the situation in Iran could drive the price up even higher for the foreseeable future.
Meanwhile, natural gas is far cheaper than oil, burns cleaner… and by the way, we have tons of it right here in the US.
Whether nat gas bears want to admit it or not, the commodity is a big part of our future.  These short-term, bearish fundamentals won't last.  And by just about any measure, the current bout of selling is extremely overdone.
But that's good news for savvy investors.
There are plenty of penny stocks involved with natural gas exploration and production.  And we can get in at ultra cheap levels.  And don't forget… when everyone out there is bearish on natural gas, it's a great sign the bad news is about to run its course.  And that's the absolute best time to buy.
Yours in profit,
Gordon Lewis
Category: Commodity Stocks, Energy Stocks, Natural Gas Stocks