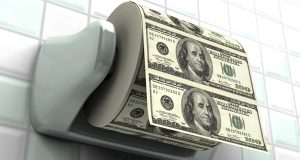 This week we're exposing these three popular Pump & Dumps: North Springs Resources (NSRS), Evader (EVDR), and Lyric Jeans (LYJN).
That said, welcome to Pump and Dump Friday, where every week we highlight a few of the "bogus" promotions that are going on in penny stocks.
If you don't know how these scams work, be sure to check out this free report that exposes the whole thing. 
Now without further ado, here are the rest of this week's disasters waiting to happen:
North Springs Resources (NSRS)
Thanks to a massive pump and dump scheme, NSRS is becoming a fixture here. 
And this is what has me concerned…
You'll see, I've seen this before.  An all out promotional assault was in place for Lone Star Gold (LSTG).  My regular readers know all about LSTG.  If you're not familiar with them, take a look at their chart below…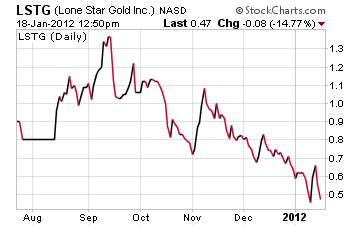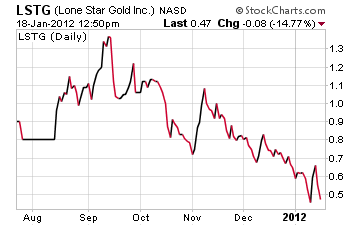 So, here's what happened…
I started getting emails from the pumpers back on August 14th.  And as you can see, the stock spiked almost instantly due to all the hype.  But since then, the stock has absolutely tanked! 
In fact, shares of Lone Star have dropped by over 65% since their peak.
With each and every drop in share price, the pumpers sent out more emails hyping the stock.  One email said LSTG "has corrected, don't miss the next leg up."   Another claimed the stock was "set for a breakout." 
Judging from the chart, I'd say breakdown is more appropriate!
Now here we are in January of 2012.  The pumpers have all but stopped hyping LSTG.  They've moved onto NSRS.
This time around, Free Penny Alerts LLC is doing most of the heavy lifting.  You'll not only see emails from them, but also from all their affiliate websites.  Below is a list of all the companies sending out virtually the exact same emails every day pumping NSRS…
Premier Penny Stocks
Killer Penny Stocks
Penny Pic
Free Penny Alerts
Explicit Penny Stocks
Free Investment Report
Penny Stock Alley
Gladiator Stocks
Now what's really interesting is the same exact email titled, "NSRS is soaring very quickly? Are you in?" was also sent out by two other companies not owned by Free Penny Alerts LLC.  These pumpers go by the names…
Awesome Penny Stocks
Penny Stock Gains
Digging a little further, I found out these two companies were owned by Centro Azteca S.A, based in Belize of all places. 
I don't know what's going on here, but when I searched for business information on them in Belize, I came up empty.  And while they may be a legitimate company registered in Belize, it seems odd I can't find anything substantial about them. 
Clearly, the companies pumping NSRS appear to be sketchy at best.  But I'm going to show you the single best reason to stay clear of North Springs stock. 
Take a look at the charts of LSTG and NSRS.  Each one shows the first few months the stock was getting pumped hard.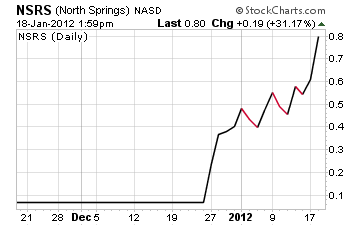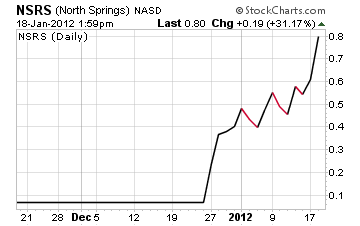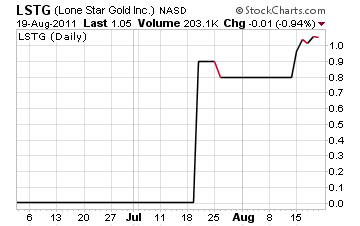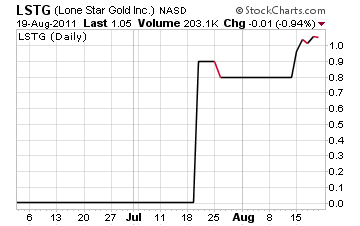 The price action is almost identical! 
Each one took off as soon as the pumpers started hyping it. 
But here's the lesson learned from LSTG.  Remember, I showed you above what happened to LSTG after the pumpers stopped.  The little guy got left holding the bag. 
I wouldn't be surprised to see the same thing happen to NSRS.  Don't say I didn't warn you… stay away from NSRS shares!
Evader (EVDR)
Now here's a great company… Evader.  It's an appropriate name, since they're evading the SEC.  That's right… you won't find any filings for EVDR with the SEC.  So immediately we have a red flag…
And it begs the question… why would a "third party" cough up $205,000 to promote shares of this stock?  In the fine print, you'll find that's what OTC Reporter's parent company, Garden State Resources NJ, LLC, was paid to hype up EVDR shares. 
Keep that $205,000 number in mind because we're going to do a little math.
Here we go…
Shares of Evader trade for just $0.0003… that's three thousandths of a penny.  And the average daily share volume is 795,397.  If we multiply the share price by the average daily volume we get the following…
$0.0003 x 795,397 = $238.62
In total, just $238.62 worth of EVDR shares trade hands each day.  That's less than my monthly electric bill!
Now here's where it gets interesting.  So let's take that $205,000 paid to the pumpers and compare it to the company's market cap (this gets good). 
To calculate the market cap, we need to head to page two of Evader's most recent financial report (which, by the way, dates all the way back to 2010).  On page two, you'll see that EVDR has 52,421,599 shares outstanding. 
So if we have 52,421,599 shares outstanding, worth $0.0003 each, Evader's market cap is $15,726. 
Ok, now back to the $205,000…
If the entire market cap of the company is only $15,726, I have to ask who on this planet is dumb enough to pay $205,000 to hype Evader's shares?
Think about it.  Even if the stock was pumped up ten times its current value to $0.003, EVDR shares would still only be worth $157,260! 
And at the currently daily volume of 795,397, even with a 10 bagger on the shares, it would take nearly three months of dumping these shares to break even! 
I'll tell you what… something fishy is going on here with the amount paid to the pumper.  And if that's not enough to keep you from buying shares of EVDR, here's one last detail.
The company has no assets or revenue.  In fact, right on page six of their April 14th, 2011 financial report you'll find the following…
"The company was administratively abandoned and reinstated in JULY 2010 through a court appointed guardian – custodian."
The company was abandoned… I think that about covers it for Evader.
Lyric Jeans (LYJN)
I love the company concept… jeans and accessories inspired by song lyrics.  In fact, I pay for a subscription to Pandora One so I can listen to music all day as I write.  I know I'm not alone, and there are millions of people that love music too.
But that's where my love affair with LYJN ends…
Not only have we caught 007 Stock Chat getting paid $2,500 for pumping LYJN shares, but their financials are horrible.
I went to the SEC website to look up the company's earnings and came up empty… LYJN doesn't file anything with the SEC.  And the newest info I did find dates all the way back to the first quarter of 2011!
What I found was the company has over 1 billion shares of common stock authorized.  And only 648 people hold all of the 632,149,405 outstanding shares.  Even worse, only roughly 281 million shares are held by the public.  That leaves a lot of "incentive" to the insiders…
Reading their report further, LYJN posted revenue for the first quarter of $81,917.  However, their bottom line was a net loss of $129,263.
What's worse is, Lyric Jeans has about $95,000 in current assets, and over $307,000 in currently liabilities.  Clearly, LYJN is headed for a liquidity crunch.
I'm beginning to think Lyric Jeans may be looking at their "Swan Song" here.  
A final word (and warning).
So that takes care of a few of this week's inglorious "pump and dumps".
Remember, there's a lot more of this going on each week than we highlight here.
As you know, penny stocks are a great place to invest your money.  You just have to do your due diligence to stay away from all the scams out there these days!
Until next time,
Brian Walker
Category: Pump & Dump Alerts