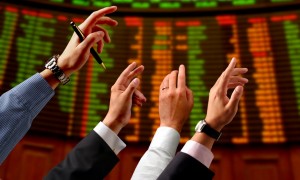 You probably saw the recent lottery news.  Three hedge fund managers won a $254 million jackpot. 
Hedge fund managers?  Really?
As if those guys need more millions…
Actually, buying lottery tickets might not be the worst hedge fund strategy after all.  Most hedge funds (whose managers didn't win the lottery) lost money in November.  In fact, hedge funds are having a subpar year across the board.
In November, hedge funds lost 1%.  Year to date, their losses jumped to 4%.  And while hedge funds fared better than the overall market last month, they're getting creamed for the year.
In comparison, the Dow Jones Industrial Average is up roughly 5% on the year while the S&P 500 is up 1%. 
So basically, you could've bought an index ETF or index fund for a minimal fee and be up for the year.  Or, you could've invested in hedge funds and paid exorbitant fees… just to lose money.
Keep in mind, most hedge funds charge 2% on assets under management PLUS an additional 20% of gains.
How's that working out?
Hedge fund managers are supposed to provide top-notch, expert advice you can't get from normal mutual funds or financial advisors.  But some of the best returns I've seen from hedge funds this year are from lottery winnings!
It seems the European debt crisis is hurting most hedge funds… both in terms of volatility and liquidity.
To all you hedge fund investors… don't worry.  I have a better idea.
We've seen several huge penny stock winners this year. Despite challenging market conditions, plenty of small companies are knocking the cover off the ball.
In fact, just about every day you'll see at least one 100% or more winner in penny stocks.  And these are usually legit companies… not some pump and dump scheme.
Solid, well-run penny stock companies can thrive in any market.  Since they're too small to receive analyst coverage or be included in stock indices, they often aren't highly correlated with the overall market.
And during these tough market conditions, that's great news for penny stock investors.  Just ask hedge fund managers… if they aren't too busy standing in line for lottery tickets.
Yours in profit,
Gordon Lewis
Category: Investing in Penny Stocks, Penny Stocks to Buy