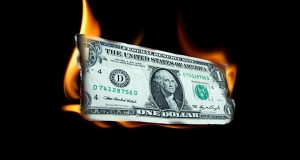 Welcome to today's Pump and Dump Alerts, where we will be exposing these two companies:  FastFunds Financial (FFFC) and Medical Alarm Concepts Holding (MDHI).
Here we identify a couple of the potentially "bogus" promotions going on in penny stocks today.
If you don't know how these schemes work, be sure to check out this free report that exposes the whole thing.
Without further ado, here are today's "disasters waiting to happen":
FastFunds Financial (FFFC)
FastFunds Financial, through its subsidiary Advanced Technology Development, holds a license related to a provisional patent titled, 'METHOD OF SEPARATING CARBON DIOXIDE'.  This patent covers methods of decomposing a gaseous medium relating to methods of utilizing radio frequency energy to separate the elemental components of gases, such as carbon dioxide.  FFFC reported a second quarter loss of $661,715, or $0.02 a share.
Shares of this penny stock trade near $0.02.
The Stock Beat was paid $15,000 by M&B Capital Services to hype up FFFC.
Medical Alarm Concepts Holding (MDHI)
Medical Alarm Concepts Holdings provides personal response monitoring services and related products to subscribers with medical or age-related conditions.  MDHI appears to have changed business focus since they were selling medical alarms.  On March 14, 2012 the company entered into a distribution contract with the global distributor of the MotorBooster fuel catalyst product.  The agreement will govern distribution rights, exclusivity, and royalty provisions as they relate to the proprietary and patented fuel catalyst product.
MDHI has failed to file any financial reports since the March 2011 period.  In that quarter, the company lost  $79,656.
This sub-penny stock trades near $0.005.
StockTradersTalk was paid $10,000 to pump shares of MDHI.
A final word (and warning).
These are just a few of the potential "pump and dumps" we've seen lately.
Remember, there's a lot more of this going on than we can highlight here.
For more in-depth coverage of potential penny stock pump and dumps, be sure to sign up for our free newsletter, Penny Stock Research.
As you know, penny stocks are a great place to invest your money.  You just have to do your due diligence to stay away from all the schemes and scams out there these days!
Until next time,
Brian Walker
Category: Pump & Dump Alerts, Pump & Dump Daily