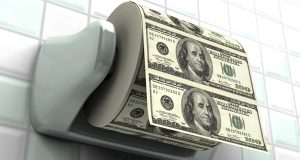 This week we're exposing this pair of popular Pump & Dumps:  World Moto (FARE) and MineralRite (RITE).
That said, welcome to Pump and Dump Friday, where every week we identify a few of the potentially "bogus" promotions going on in penny stocks today.
If you don't know how these schemes work, be sure to check out this free report that exposes the whole thing.
Without further ado, here are today's "disasters waiting to happen":
World Moto (FARE)
Just looking at the above company's name, where do you think they came about that ticker symbol?
Well, that's a great question we're about to uncover.  World Moto was a company that just acquired the stock of Net Profits Ten.  When researching to see what Net Profits Ten was into, I found this on their latest financial report:
"The Company is engaged in offering interactive software products for the creation of an interactive digital yearbook designed for fundraising for the military."
It all makes perfect sense now, doesn't it?
Of course, the pumper isn't going to tell you that a Thai motorcycle taxi meter company (World Moto) just merged with a US company that has no revenue or assets.  No… that's my job.
For their pumping efforts, both Victory Stocks and Penny Stock Advice (both operated by Degroupa Tenner Morales Media Corp out of Costa Rica), each expect to collect €10,000.  Or is that the total for both?  You can't really tell, because the disclaimer is pretty much cookie cutter with each website being replaced as needed.
What's more, Penny Stock Advice was caught pumping this stock just last week!
Like virtually all the penny stocks that grace these pages, World Moto is a real treat.  For starters they reported $0 revenue in their latest quarter.
On top of that, the company posted a loss of $42,934 for the first nine months of 2012.  Doesn't that make you want to run out and buy this stock?
As you'd expect, the books are a mess with $0 cash on hand and an accumulated deficit of more than $115,000.
And of course, the pumper can only tell you about how great the new merger will be for shareholders… Yeah, motorcycle taxi meters have me all worked up over here.  Thanks for that!
In the end, it's simply another case of buyer beware.  And I'm telling you now… beware buying shares of FARE!
MineralRite (RITE)
This must be the week of "pass the ticker symbol please"…
Why do I say?
Well, MineralRite has quite the track record so to speak.  In fact, RITE just picked up its new name in August of last year.  Before that, the company was known as Royal Quantum Group.
Check out RITE's complete history-
1996 – Incorporated as PSM Corp.
2002 – share exchange agreement with Super Yachts Holdings
Oct 2002 – company name change to Platinum Super Yachts, Inc.
Sept. 2005 – focused on acquiring oil and gas properties as Royal Quantum Group
Aug 31, 2012 – Name Change to MineralRite Corp., and business change to precious metals
So, are you ready to shell out some cash for shares rolled up into failure after failure?
As usual, you won't find RITE's gory past in the pumper's email.  That might actually take real research, and more importantly, isn't a great selling point.
But for $3,000, I don't blame Penny Stock Explosion all that much.  That's what this pumper was paid by Numark Capital Corp for two days work.
Their latest quarterly report (September 2012) tells us the company isn't doing that swell.  Interestingly, RITE does have more cash than most companies we cover here, with $9,365 on the books- almost a whole $10,000!
But alas, the company ended up selling stock to cover some expenses, and their auditors list the company as a "going concern"… meaning they're worried the company can stay in business.
It shouldn't come as a surprise when I tell you RITE posted a loss from operations of $317,890 for the first nine months of 2012, and have accumulated a $5.7 million deficit as of September last year.
In the end, I suggest you ignore any email you get from the pumpers praising companies such as RITE – and even more importantly, keep this stock off your "buy" list!
Other Penny Stocks Being Pumped This Week
CRWE, NARA, ESRX, SNTS – Crown Holdings has failed to disclose how much they have been paid, if anything, to promote each of these stocks.
OBJE – Top Microcap Stock was paid $30,000
A final word (and warning).
These are just a few of the potential "pump and dumps" we've seen lately.
Remember, there's a lot more of this going on than we can highlight here.
As you know, penny stocks are a great place to invest your money.  You just have to do your due diligence to stay away from all the schemes and scams out there these days!
Until next time,
Brian Walker
Category: Pump & Dump Alerts