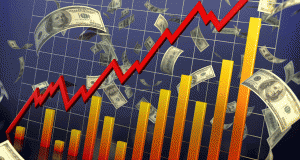 We've just begun a brand new year, but that doesn't mean we should forget about the past.  In fact, looking at the last ten years can teach us a lot.  And in this case, the last decade proves a point I've been making for years.
Small and micro caps are better investments than large caps.
I can make the case no better than by showing you this graph…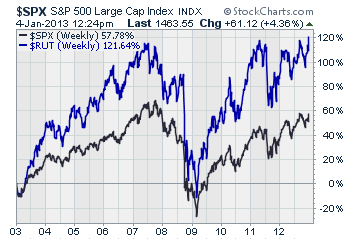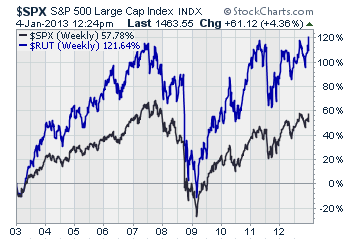 I don't know about you, but this chart really blows my mind.
Here's the story…
The black line is the last ten years of performance for the S&P 500 – the benchmark considered the most representative of large and mid cap stocks.  It's done fairly well, up nearly 60% in a decade.  That's not too bad considering what we've gone through over the last ten years.
However, just look at the Russell 2000 – the blue line.  Keep in mind, the Russell 2000 index is an excellent proxy for small caps and penny stocks.
As you can see, small caps have done over twice as well as larger stocks over the same time span.  That's amazing if you think about.  And, over 120% gains is an impressive figure in its own right.
Of course, I don't believe this is some sort of anomaly.  After all, I've been pushing small caps for much of my career.
Remember, small and micro cap companies are often overlooked by the average investor.  They rarely get analyst coverage.  And there are almost never stories about these companies on CNBC.
What's more, small caps are typically considered riskier investments than large and mid caps.  As such, they tend to sell off more in a down market than more widely followed stocks.
And you know what that means…
Small and micro cap stocks are commonly underpriced by the market.  As such, savvy investors jump in and take advantage of the mispricing on a regular basis – which is exactly why they made twice as much as the average investor over the last decade.
And, I'm willing to bet this trend will continue for the next decade.  Many investors tend to ignore the obvious benefits of small caps.  Widely followed, popular companies will always pull in the most investors.
But that's great news for us.
Keep making smart picks in the small cap space and you'll continue to get outsized returns over the long-term.  And, this next ten years could be even better than the last.
Editor's Note:  Speaking of good penny stocks, this is the week I'm releasing my first pick of 2013 to subscribers in my flagship penny stock service Penny Stock All-Stars.  Don't miss out on your chance to grab shares in this amazing industrial goods company.  Click here for more information about this exciting service.
Yours in profit,
Gordon Lewis
Category: Investing in Penny Stocks