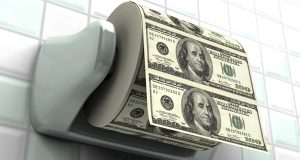 Welcome to Pump and Dump Friday, where every week we highlight a few of the "bogus" promotions that are going on in penny stocks.
If you don't know how these scams work, be sure to check out this free report that exposes the whole thing.
Without further ado, here are this week's disasters waiting to happen:
Exit Only (EXTO)
Here we go again with the crazy names…
Exit Only… I'll tell you this much, if I owned this stock, I'd be exiting right now.  Yesterday, while the market plummeted over 400 points, this stock almost doubled in value.  The price jumped from $0.006 cents to $0.0105 cents.
That's just enough to buy a penny candy for a kid.
Why the run-up?
Because the pumpers had the company in their grasp.   Blue Horse Shoe called this company a "GOLDEN opportunity".
I call it an opportunity for pumpers to dump shares on the market.  I think this stock is poised to fall… and fall hard.  Let's look and see what a shareholder gets for buying this stock.
Hmmm… this is where we have a problem….  "Houston… we have a problem!"
I went to the SEC website… and they have nothing on file.
I went to the company's website – no information there either.
Then I visited the OTC Market's site.  The most recent information is from October of last year… and it contained financial numbers from December 2009!
I'm not going to bore you looking at numbers more than two years old.  All I have to say is they didn't look so good.
But I did find something funny.  Their business description.  According to this old report, the company operates a resort hotel… in the Dominican Republic (now there's an up and coming country!).
Anyway, what's so funny is their recent press releases don't say anything about the resort.  Nope.  The last press releases are all hype.  For example, the press in May talked about their new acquisition.
It's a "dynamic trading company principally involved in brokering wholesale lots and closeouts."
Now, get ready to scratch your head.
The company put out a press release – YESTERDAY – about their gold mine.
No kidding.  I can't make this up.  If you buy this stock, you're buying either a resort, a trading company, or a mine.  Pardon my skepticism, but why buy the stock if you don't know what you're buying?
Like I said, this is one stock I'd EXIT!
Golden Spirit Enterprises (GSPT)
I love companies like this… Golden Spirit calls themselves an "environmentally, socially conscious Company specializing in green technologies which will assist in fighting global warming and the march to help mankind."
What a noble business plan.
Too bad the business is a bunch of crap.
Hot Shot Stocks was pumping this company this very morning.  For a cool $5,000, they say "Do not let GSPT go under your radar!"
Riveting analysis guys.
I say ignore the stock, ignore this pumper, ignore this company.  And if the stock's on your radar, break your radar.
Why?
This is one of the few companies who actually files their documents with the SEC.  So digging on this company wasn't difficult.
But what was difficult… trying to figure out why anyone would buy this stock.
Right now the company trades for just over $0.02 cents a share.  And it's looking quite ugly on the financial side.
Golden reports a whopping $198 in cash.  I'm sure our summer intern has more cash than that in her bank account.
Now, the company only owes $34,157 in accounts payable and other liabilities.  Let's hope the suppliers don't ask to get paid any time soon.
Now this is where it gets really ugly.
Last quarter, and for the last six months, the company's reported no revenue.  Zero, Zippo, Zilch.
As a matter of fact, since 1993, the company has generated a whopping $136,000 in revenue.  So over the last 18 years, the company has averaged just over $7,000 a year in revenue.  That's pathetic.
A teenager with a good lawn mower and a little ambition could make more money mowing lawns.
This is a stock that will turn Gold into Lead.
Wow, some people have an inflated sense of reality.
Take for example pumper Hot OTC China… they came out this morning bragging about how their pick is up big.  Good for them.
The funny thing is the stock chart doesn't look so hot.  Yesterday the stock plummeted 23% at the close!   Sorry you lost a bunch of money yesterday, but this morning we're up…
Who are they kidding?
So I had to ask myself… Why is this pumper so hot on this stock?
So I did what I always do… I read the disclosure statement.  Somebody paid them $60,000 in cash to pump this stock.  I guess I'd be bragging too!
Here's the scary part…
Back in March, the company voluntarily terminated their registration.  That's right.  They sent a nice little letter to the SEC and said we don't want to be a public company anymore.
Now a few months later, they put out a press release saying they want to up-list their stock.  Don't you find that strange?
It costs a lot of money to get a proper registration statement filed with the SEC… and to give it up so easily shows total lack of foresight.
That's not the only problem.
Since they terminated the registration, they don't have any current financial statements.  So that means you have no idea how much money the company has… who they owe money to… and more importantly, who controls the stock.
It's a bit like looking for gold in an un-lit coal mine.  Good luck with that!
 

A final word (and warning).
So that takes care of a few of this week's inglorious "pump and dumps".
Remember, there's a lot more of this going on each week than we highlight here.
As you know, penny stocks are a great place to invest your money.  You just have to do your due diligence to stay away from all the scams out there these days!
Until next time,
Brian Walker
Category: Pump & Dump Alerts