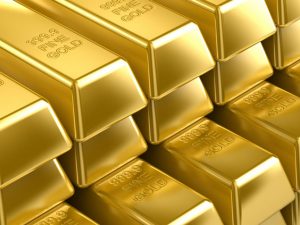 It should come as no surprise, the top performing industry over the last three months is gold mining.  As a matter of fact, gold miners are collectively up 8.3% over the period.
Check this out… of the top ten best performing companies in the industry, half are penny stocks.  Basically, big company or small, if your business is digging up gold, you're probably doing pretty well.
By now, the vast majority of investors are aware of gold's safe-haven status.  I imagine if you polled investors across the globe on the safest place to put your money right now, a majority of them would choose gold.
But, despite how well gold is performing, I'm not sure I'd buy it here.
Yes, that wasn't the most convincing statement.  'Not sure' isn't the same as 'not' – but there's a reason for my less than definitive language.  I'll get back to it in a minute.  First, let's talk about gold's impressive rise.
The most interesting thing about gold's rocketing price is the diversity of buyers.  In a nutshell, everyone's buying gold.
Retail investors are buying gold ETFs and gold coins.   Hedge funds are buying gold futures.  Even central banks are buying gold bullion, by the ton in some cases.
It makes perfect sense.  There's a lot of fear right now.  And market volatility is hitting extreme levels.  The currency market has been even more volatile than the stock market, if you can believe that.
This mass exodus from all "risky" investments to gold has pushed the yellow metal up over 24% in three months… topping $1,850 an ounce.  That's quite the meteoric rise.
Here's the thing…
I want to believe gold is entering bubble territory.  But I'm not quite sold on the idea of gold being overbought.
You see, lately the contrarian indicators are coming at me fast and furious.   
For one, I'm starting to see multiple headline articles saying gold is overbought.  When it hits the mainstream like that, it's never a good sign.
And get this… while out to lunch just the other day, some random guy overheard our conversation about gold.  He then proceeded to tell us how the price of gold is a farce.  And it's actually nine times higher than where it should be priced.
(My favorite part of his diatribe was how the military was going to show up any day now to claim everyone's gold on behalf of the government.)
Huh?  Ignoring the crazy conspiracy part of the conversation… the whole thing just smacks of a massive contrarian indicator.  Anytime you get unwarranted investment advice at Subway, it's wise to immediately do the opposite.
Still, I can't shake the feeling that gold has risen too far, too fast.  And, I don't believe in waffling when it comes to investment decisions.
So, ultimately I decided gold is too expensive.  And this chart is the biggest reason why I made the decision…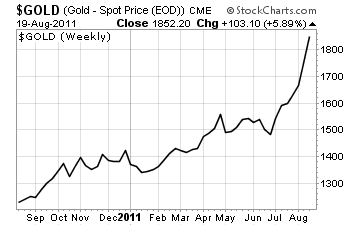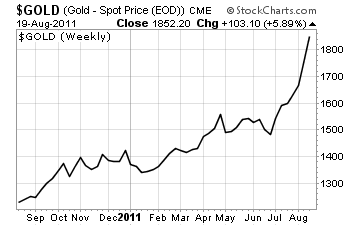 See that huge spike over the last month?  That sort of parabolic climb has preceded every bubble to ever burst in financial market history.
Now don't get me wrong.  I think over the long-term gold is going higher.  Plus, gold's downside risk is limited.  Too many central banks and large funds hold the precious metal for a significant downdraft to occur.
But in the short-term, I'm a seller. 
Gold miner penny stocks have done well, but I don't expect the party to continue much longer.  And with the recent market selloff, there are plenty of other undervalued companies just waiting to be scooped up by savvy investors.
Yours in profit,
Gordon Lewis
Category: Gold Stocks, Hot Penny Stocks, Penny Stocks to Buy