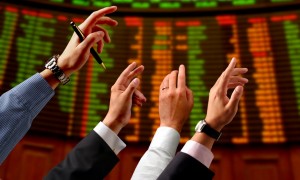 Investors tend to avoid penny stocks when they're feeling fearful.  Penny stocks are considered riskier investments, so they're often the first to go during periods of high market volatility.
Of course, we're coming off a week of extreme market volatility… and significant selling of penny stocks.
But despite the elevated levels of volatility, this is an excellent time to find great penny stock bargains.
And I'm not just talking about finding undervalued companies because of the recent overselling.  You see, investors who are worried about negative macroeconomic conditions aren't going to be concerned about finding good values.
Risk averse investors often live by the 'rising tide lifts all boats' theory.  Although in this case, it would be the opposite.  (A receding tide sinks all boats?  It just doesn't have the same ring to it.)
Basically, if investors believe the overall market is going to suffer in the weeks or months ahead, they're more likely to stay away from riskier investments such as penny stocks.
Here's the thing…
Macroeconomic conditions aren't as bad as you think.  In fact, there's some reason to believe all the double-dip recession talk is nothing more than an overreaction from the naysayers.
For one, corporate earnings are strong.  In the second quarter, 68% of companies beat revenue expectations and 60% surpassed earnings expectations.  That's hardly catastrophic.
Moreover, the unemployment situation in the US is actually improving, albeit slowly.  Initial jobless claims are slowly trending in the right direction.  And overall job creation is starting to tick up.
Finally, retail sales are actually increasing.  And it's not just some one-off event.  Of the thirteen components of the headline retail sales number, ten of them were positive in July.  What recession?
Okay, so we're not out of the woods yet.  But I really don't see strong evidence of another recession on the horizon.
That's not to say we're going to be seeing any significant growth in the near future.  But slow growth and negative growth are two very different things.
And I'm sure most of us will take a slowly growing economy over a recession any day.
Here's the bottom line…
Investors fled penny stocks in droves at the height of the market selloff in early August.  But there's little evidence the economy is headed for another recession.  And savvy stock buyers have an incredible opportunity to load up on great penny stock companies at dirt cheap prices.  Don't miss out!
Yours in profit,
Gordon Lewis
Category: Investing in Penny Stocks