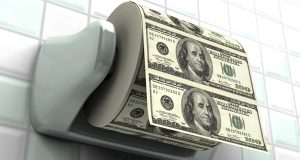 This week we're exposing these three popular Pump & Dumps:  DirectView Holdings (DIRV), Emperial Americas (TEXX), and NanoTech Entertainment (NTEK).
That said, welcome to Pump and Dump Friday, where every week we identify a few of the potentially "bogus" promotions going on in penny stocks today.
If you don't know how these schemes work, be sure to check out this free report that exposes the whole thing.
Without further ado, here are today's "disasters waiting to happen":
DirectView Holdings (DIRV)
Well, here we are again… another Friday alert all about the "quality" stocks the pumpers are pushing down our throats.
Today we have another overhyped, unprofitable penny stock to warn you about called DirectView.  I have no less than nine different pumpers firing off emails about this videoconferencing company.
On the top of the list of offenders is Beacon Equity, cashing in for $25,000.  The pumper was paid by Esta Global Pte, Ltd.  I'm sure they've bought a ton of DIRV shares to dump as the pumpers did their dirty work.
In fact, you can see the volume spike as a result of the pumping.  Take a look below…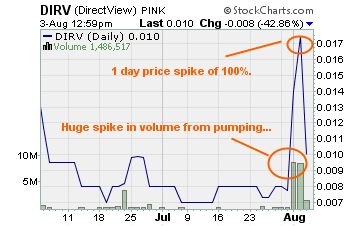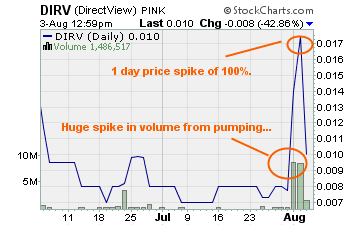 As you can see, the previous two days of pumping jacked the stock up quite nicely… just about a pure double.  And the volume was massive compared to the daily average of just 400K.
Here's the messed up part… unless you knew the ride was ending in just two days, like Esta Global did – you're left holding the bag and giving away your money.
The take away here is this…
You could have made a ton if you knew when the pumping was starting and sold as soon as you made your 100%.  But that couldn't have happened unless you were the one paying the pumper and knew when the emails would hit. 
You would have had to own shares prior to the pumping…
If you're left holding DIRV shares, there's no reason to hang onto them.  It's not like the company makes money… or even has money.  DIRV has $233 in cash on the books and posted a net loss of $136,710 in Q1 2012.
This penny stock will be back at "sub-penny" levels before you know it… right where it should be trading!
Emperial Americas (TEXX)
I really wanted to love this company.  You see, I'm a bit of a Tequila connoisseur – so inherently I was interested to see if TEXX was a good investment.
When Hot Stock Profits sent out a release from the CEO commenting on the possibility of good earning s in Q4 this year, I was intrigued.  Could it be the pumpers are actually promoting a great investment?
Then I woke up… and read the micro-font at the bottom of the email reminding me the pumper was paid a whopping $2,000 by a third party to promote the stock.
Then just like clockwork, more and more emails hit my inbox highlighting the "technical" performance of the stock.  Big whoopee!
It looks to me this liquor distributor has seen its best days behind it.  Take a look at the chart to see for yourself…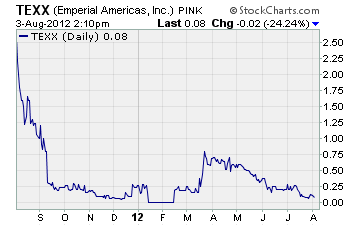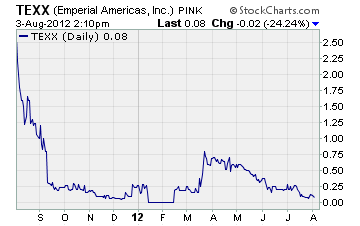 Somehow the pumpers missed an important part in their "technical analysis".  The stock's dropped into virtual obscurity from a 52-week high that was well over $2.25.
But that's not all they missed…
Not a peep was made about the financial condition of the company, and let me tell you – it's no picnic.  On the plus side, TEXX is a rare company for us to cover as they actually produced some revenue.
For the first quarter of the year, Emperial pulled in $9,625.
Yes, you read that right, they sold some product.  But their net cash used in operating activities was $9,866 – putting them at an operating loss of $223.
I know, I know – we're talking big bucks here. 
Given the fact that this tiny company has grown their share count from 90 million to 111.6 million tells me they're giving away shares to pay for services.  At least, that's how I read it.
What's more, TEXX has cumulative losses since inception of $538,732.  And the company has a working capital deficit on December 31, 2011 of $145,165.
One thing's for sure, TEXX better start selling some liquor quick… or they'll be left for dead!  And that's certainly something you don't want to be holding when it happens.
NanoTech Entertainment (NTEK)
I always get a kick out of some of the stocks that pumpers have the audacity to tout.  And NanoTech is certainly one of them.
In doing my research, I discovered NTEK is a company with a media division, gaming division, and communications division.  Sounds pretty impressive, right?
The pumpers are hyping up the fact that NanoTech is a "virtual" manufacturer.  Come again?
I guess they're simply licensing all their products – versus actually making anything.  I don't know how they consider that manufacturing then.  Well, add that to the rest of the creative crap Stock Roach (and others) are spewing, and you'll soon realize it's all just hype.
You know the drill… this pumper was paid $12,000 for creating some crafty promo emails – so they'll say anything!
But the truth always lies in the numbers which are against NTEK here.
I love exposing companies like this – millions and millions of shares and $152 in cash.  That'll go far, like buy you a nice steak dinner!  Even worse, NanoTech has over $866,000 in liabilities. 
And of course, business isn't really booming.  For the first quarter of 2012, NTEK lost $156,643 on $0 revenue.  So how again is it these guys have three divisions and are set to collect – as the pumpers say –  "fat licensing fee(s)"?
Oh, and I almost forgot…
I had to dig up the company's financial information as I drew a blank on the SEC website.  The last thing NTEK filed with the SEC was the form to suspend their stock registration.  You know how that always gives me the warm fuzzies when looking at an investment.
It's a no brainer to leave this sub penny stock exactly where it belongs, far away from your portfolio.
A final word (and warning).
These are just a few of the potential "pump and dumps" we've seen lately.  Remember, there's a lot more of this going on than we can highlight here.  As you know, penny stocks are a great place to invest your money.  You just have to do your due diligence to stay away from all the schemes and scams out there these days!
Until next time,
Brian Walker
Category: Pump & Dump Alerts