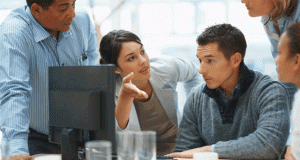 As we make our way through another earnings season, it's easy to see how important quarterly results are to investors.  Big swings in share prices occur on a daily basis due to earnings beats, misses, and guidance.
Clearly, many investors are laser focused on profits.  And, in many cases, they should be.  For a blue chip company, especially one with a mature product line, profits are extremely important.
However, for other companies, profits simply don't matter.
New and rapidly growing companies are two examples of businesses where profits may not be all that important.  Often times, these types of companies are on the smaller side, but not always.
Why don't profits matter for some companies?
For a perfect example, let's look at a very large company and one of my personal favorites…
Amazon (AMZN).
You see, AMZN is not a profitable company right now.  Yet, the stock keeps going up and up.  What gives?
In a word… growth.
Amazon is growing like crazy.  In fact, this past quarter, sales were up 29% year over year to a whopping $12.8 billion.
But shouldn't a company that pulls in over $50 billion a year be profitable?  Not if it's growing as fast as Amazon.
Here's the thing…
Amazon consistently reinvests profits in the company.  CEO Jeff Bezos isn't concerned about             quarter to quarter profits – he's looking at the big picture.  That's why the company invests millions upon millions in infrastructure, innovation, and whatever else may lead to long-term growth.
Think about it.  The company invested a boatload in cloud technology and is now the leading cloud computing company on the planet.  AMZN then went to work on the e-book industry and now sells more digital books than physical.
What's more, the huge investment in the Kindle Fire is paying dividends.  It's giving the iPad a run for the money.  Finally, the company is pouring millions into building a dozen more fulfillment centers across the US.
Through all of the massive spending on internal projects, AMZN continues to thrive.
Keep this in mind, if Bezos wanted the company to show a profit, it could happen at any time.  However, he's wisely more concerned about the long-term than immediate gratification.
Clearly, Amazon investors agree.
More importantly, the same concept holds true for small companies.
Well run, forward looking small caps are astutely focused on long-term growth and innovation.  That's what separates average businesses from the ones who will become leaders in their industries.
Bottom line… when investing in small companies, pay close attention to revenue growth and spending on innovation.  Profits just aren't that important for these types of companies.  And, you may just be buying into the next Amazon.
***Editor's Note***  Our colleague and friend over at Hyperion Financial just released 2 new penny stock recommendations that you should take a close look at.  He only sends these out to his private subscribers, so if you get in now, you'll have a jump on the rest of the market.  Details here.
Yours in profit,
Gordon Lewis
Category: Investing in Penny Stocks