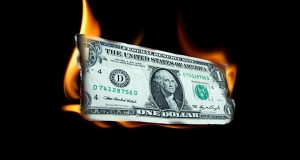 Welcome to today's Pump and Dump Alerts, where we will be exposing these two companies:  Clean Wind Energy Tower (CWET) and Global Clean Energy (GCEI).
Here we identify a couple of the potentially "bogus" promotions going on in penny stocks today.
If you don't know how these schemes work, be sure to check out this free report that exposes the whole thing.
Without further ado, here are today's "disasters waiting to happen":
Clean Wind Energy Tower (CWET)
Clean Wind Energy designs large "Downdraft Towers" that use non-toxic, natural elements to generate electricity and clean water.  Once in use, CWET's technology will integrate and synthesize numerous technologies.  The company has filed several patents, but doesn't currently have any products on the market.  For the second quarter of this year, Clean Wind Energy Tower lost $566,513 on zero revenue.
We exposed a pump and dump being run on shares of CWET back in February.  At the time, the stock was trading near $0.16.  Shares are currently trading near $0.06
Research Driven Investors was paid a total of $110,000 more to pump shares of CWET since February.  This brings their total stock promotion compensation to $180,000 on this stock alone.
Global Clean Energy (GCEI)
Global Clean Energy is a waste-to-energy conversion solutions company that's focused on using available and developing technologies to recover or extract from industrially abandoned sources.  Potential investors should be aware GCEI stock is not registered with the SEC.  What's more, the company just had its shares start trading in August of this year.
Shares of this penny stock were recently trading around $0.11.
Beacon Equity was paid $15,000 by Cooperman Bros. to pump shares of GCEI.
A final word (and warning).
These are just a few of the potential "pump and dumps" we've seen lately.
Remember, there's a lot more of this going on than we can highlight here.
For more in-depth coverage of potential penny stock pump and dumps, be sure to sign up for our free newsletter, Penny Stock Research.
As you know, penny stocks are a great place to invest your money.  You just have to do your due diligence to stay away from all the schemes and scams out there these days!
Until next time,
Brian Walker
Category: Pump & Dump Alerts, Pump & Dump Daily