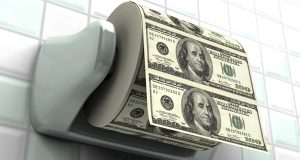 This week we're exposing these three popular Pump & Dumps: FastFunds Financial (FFFC), Medical Alarm Concepts Holding (MDHI), and Green Energy Renewable Solutions (EWRL).
That said, welcome to Pump and Dump Friday, where every week we identify a few of the potentially "bogus" promotions going on in penny stocks today.
If you don't know how these schemes work, be sure to check out this free report that exposes the whole thing.
Without further ado, here are today's "disasters waiting to happen":
FastFunds Financial (FFFC)
When I first heard of this company, I couldn't help but think "Shady Payday Loan Company".  You know the type… 110% annual APR on up to $2,000 in payday advances.  Certainly these places are a major moral hazard, but somehow many are quite profitable.
FastFunds turns out to be scamming excessive fees in a different venue… but somehow is completely unprofitable!
Digging back to their second quarter of 2009, we can find FFFC owned a subsidiary called Chex Services, Inc.  And Chex was in the business of check cashing, ATM access, and credit card advances at Native American-owned casinos.  That's like a license to steal!  You even get an ATM withdrawal fee at these places?  It's like a $4 fee!
But in that quarter, FFFC reported losing $2.7 million!  How does that happen?  Well, for Fast Financial, it appears to have been a litigation issue.
Fast-forward to today… and FFFC owns, among other things, a subsidiary named Advanced Technology Development that holds a patent titled, "Method Of Separating Carbon Dioxide". That sounds like a real winner… NOT!
So why exactly is this stock showing up on these pages?
FFFC is being pumped… that's why.  Penny Stock Explosion was among the pumpers to be paid to promote Fast Financial.  In fact, they cashed in for $4,000 to do the deed.
Here's what they had to say about FFFC –
"The Company currently operates in the financial services industry segment with a single credit card services portfolio. The Company is currently seeking new business opportunities to diversify and complement our current services and products, enhance our technical capabilities or otherwise offer growth opportunities for our stockholders"
Now here's my favorite part…
All the pumpers had to offer up same day apologies as shares of FFFC simply tanked just after their buy recommendations were released.  Here's what they had to say…
Penny Stock Pulse/Premier Stock Alerts- Warning: FFFC A Pig Show.  Time To Move On
Penny Stock Explosion- FFFC Takes a Wrong Turn
MSBA- Sincere Apologies from MBSA
Street Beat- Warning: FFFC Not What We Expected
Say what?
I've never heard pumpers apologize for a bad pick that fast!  And judging by the chart, it's pretty clear why. Take a look for yourself…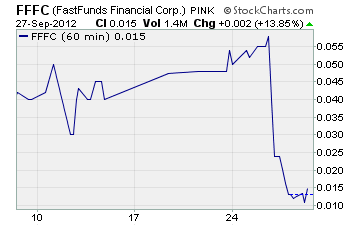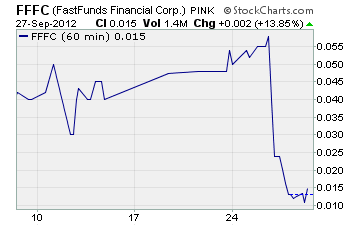 Boy did FFFC shares tank – and how.  They dropped from $0.055 to just $0.01 in a single day!  I guess we know what it takes to make even the most hardcore pumper apologize.
The bottom line here is simple… never take advice on stocks from a paid stock promoter.
You see, if FFFC went up just a single day after they recommended it – and then it crashed… you wouldn't hear a peep from them.  It's all just part of the pump and dump game.  They'd even have the gall to spin the single "up" day into a positive.
Obviously, we're taking a pass on FFFC.
Medical Alarm Concepts Holding (MDHI)
"Help, I've fallen and I can't get up!"
No, that's not this company… but you can bet Medical Alarm wishes they were Life Alert.  They even have their own cheesy website to promote their MediPendant.  Take a look…


It's true, MDHI has what appears to be a product on their outdated website.  But when you go to the site to buy your very own MediPendant, you can't even process anything online!  You have to call up an operator to order.  Are these guys stuck in 1980 still?  Geez.
But that's not why their stock is hitting the Friday Pump and Dump Alert. 
Even though it appears they have a product for sale, there are two great reasons to really not buy the stock.  First off, the stock's been pumped.  Stock Traders Talk was paid $10,000 to tout shares of MDHI.  So right off the bat, you can't take anything the pumper says about this company seriously.
But it gets much worse…
MDHI has failed to file any financial reports since 2011, March 2011!  That's 7 quarters of missing financial reports.  What's worse, the company lost $79,656 in that quarter.  I'd be afraid of what shows up in subsequent reports.
All that is showing from MDHI is a series of news announcements regarding distribution contracts, mergers, etc.  The company was dealing with an outfit called First Fitness Nutrition at one point, and then called off a merger.   More recently, MDHI became a distributor for MotorBooster fuel catalyst products.
Say what… fuel booster?  Really, I can't make this up if I tried.
Finally, take a look at the stock and see if this is something you want to buy…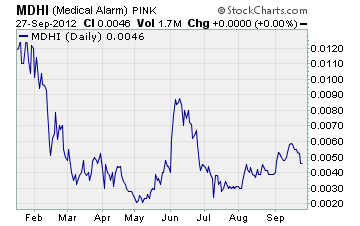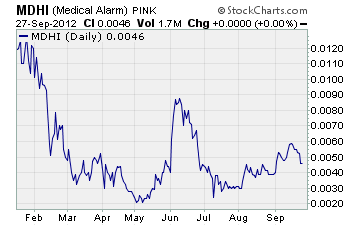 Needless to say, with no financial reports to go by, and a clearly unfocused business plan… this is one sub-penny stock that's clearly doomed.  I'd even go so far as saying…
"Help, MDHI has fallen and it can't get up!"
Green Energy Renewable Solutions (EWRL)
Green Energy Renewable Solutions is a developer of municipal solid waste, construction, and demolition waste processing and recycling facilities.  That sounds really "green", doesn't it?
Well, that's the only good news on this company…
But don't think pumpers haven't been trying to say great things about EWRL.  And why not, they're getting paid to do it.  In fact, Research Driven Investors (RDI) – aka David Cohen – was paid $35,000 by Lake Group Media to promote this stock.
And it's not the first time Green Energy has been pumped…
Back in late June, we exposed yet another pump and dump scheme being run on shares of EWRL.  And here's the kicker – none of the pumping has helped shareholders one bit!  In fact, the stock has sank from $0.44 a share earlier this year to just $0.10 as of yesterday's close.
That's a loss of more than 75%!
And it's not like there's any hope for shareholders.   You see, as of June 30, 2012, the company lost $4 million on $0, yes $0, in revenue.  And the share count just keeps getting diluted.
Outstanding shares of EWRL have grown from 17 million to a massive 58.1 million! 
With the company bringing in $0 revenue and an insane cash burn, Green Energy isn't long for this world.  Keep your finger off the buy button on this penny stock!
A final word (and warning).
These are just a few of the potential "pump and dumps" we've seen lately. Remember, there's a lot more of this going on than we can highlight here. As you know, penny stocks are a great place to invest your money.  You just have to do your due diligence to stay away from all the schemes and scams out there these days!
Until next time,
Brian Walker
Category: Pump & Dump Alerts