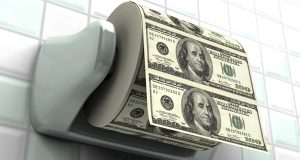 This week we're exposing this pair of popular Pump & Dumps:  Casablanca Mining (CUAU) and Avatar Ventures (ATAR).
That said, welcome to Pump and Dump Friday, where every week we identify a few of the potentially "bogus" promotions going on in penny stocks today.
If you don't know how these schemes work, be sure to check out this free report that exposes the whole thing.
Without further ado, here are today's "disasters waiting to happen":
Casablanca Mining (CUAU)
No, it's not 1942 – and we're not talking about Humphrey Bogart and Ingrid Bergman.  Don't you wish!  No, it's just another little-known mining company making a name in the pump and dump game.
Original… right?
The pumpers over at Research Driven Investor (aka, RDI) are touting shares of CUAU to unsuspecting folks desperate for investing ideas.   Of course, they were paid $35,000 by a company called Awareness Consulting Network, LLC… and that means you can trust NONE of what they're saying.
The pumper is happy to tell you all about a mining region that CUAU is working in.  As they say, the region is "Legendary in Chilean Mining Lore…" 
But the pumper won't tell you about what the accountants are saying in Casablanca's latest financial report.   Check it out –
"In addition, the Company has not generated any material revenues. These conditions raise substantial doubt as to the Company's ability to continue as a going concern."
Simply translated, CUAU isn't making nearly enough to run their business, and without further financing or a big change at one of their mines… Casablanca may cease to exist as we know them.
So how bad are the numbers?
Well, if their latest report is any indicator, the company is operating at a major loss.  In fact, CUAU is literally running an operating loss of $2,756 for the past three month period.   Then you add in expenses, admin costs, interest payments… and the number jumps to a $361,000 loss during the last quarter.
Clearly this stock isn't what I call "investment grade".  So let's get back to the pump – pretty much the only reason the stock is on the rise…
Two things stand out to me that are major red flags.
First off, Casablanca's stock price fell over the past two years from $11 to just $0.10.  In January of 2011, CUAU was trading at $11 per share.  Just a year later, the stock fell all the way down to $5.  As of just a month ago, shares of Casablanca Mining fell to just $0.10.
Now enter the pumpers…
With the financials I posted above, who in their right mind would buy up this stock?  And why did the purchase of this stock immediately precede a pump and dump campaign?
Great questions, so let's look at the volume for answers.
For most of the month of August, when the stock was trading around $0.15 to $0.10, the daily volume was roughly around 60,000 shares.  That's perfectly normal for an obscure penny stock like CUAU.
But here's the kicker – on October 18th, the share volume spiked to a massive 1.6 million shares!  Whoa – who's doing all that buying?  And the real question is, "Why?"
Now, sure this could have happened for any reason.  The company had a "press release" about securing funding for its Los Pinos Hard Rock gold property.  Ok, great for them.
But in my extensive experience, I see this time, and time, and time, and time (you get the point) again.  And for some reason, it always coincides with the pumping.
We saw similar volume on October 25th as well… just days ago, where it reached over 1 million shares.
Your takeaway here should be clear – the pumpers are getting paid to promote the hell out of this stock.   And at the same time, the stock price has gone up 400% since August (but, remember… it's down over 95% during the past two years.)
Great upside potential?  A breakout stock?  Not in my book – just another pump you need to avoid!
Avatar Ventures (ATAR)
I don't know about you, but all I can think of when I see this company's name is really big blue people running around a sci-fi jungle half-naked.   Sadly, ATAR wishes it had that level of success – but it hasn't.
Of course the pumpers will all tell you different.  They're blowing lots of smoke up everyone's backside on this stock.  Beacon Equity/BlueWave Advisors picked up $20,000 from Microcap Innovations to hype up shares of Avatar Ventures.
Strangely, the pumping is doing no good!  See for yourself…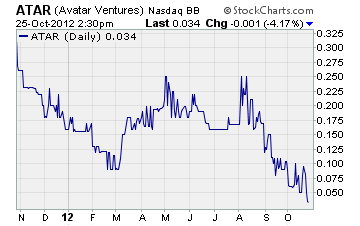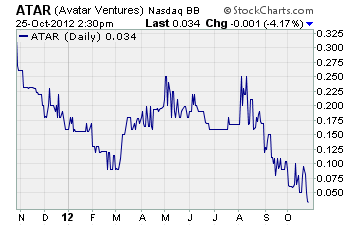 Well that's certainly a stock that everyone should run out and buy.  The pumpers are popping off that you "have a chance to buy ATAR under a nickel".  Really?  I have a chance?  That's awesome.  Thanks for the tip.
But before I buy any stock, I have this peculiar ritual of finding out about the business a bit.  (I know, crazy – huh?)
From an operational standpoint, ATAR used to make a cell phone car adapter that sent text messages to an LCD screen that mounted on your dash.  How nifty… but it seems like this crazy thing call "Bluetooth" does that wirelessly – and sends it to your car's integrated audio system these days.
Hmmm, now what do they do?
As you might have guessed, they've moved onto none other than – Social Media!  Oh boy, that's not a crowded house, is it?
Now here's my favorite part.  Check out this screen grab I pulled directly from ATAR's website…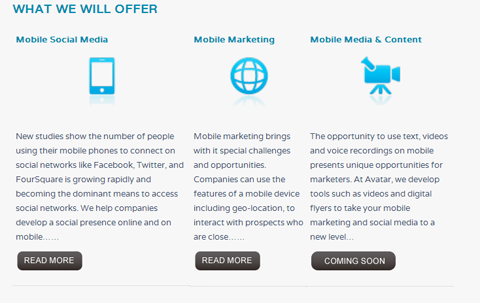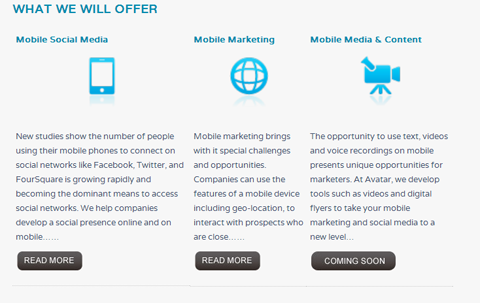 I love it… "What we will offer" is all they've done so far.   Promises, promises.
To wrap up here, I'm going to give you a quick overview of their finances in case you're still thinking ATAR shares should be in your portfolio.
For starters, they have $49 in cash as of April 30th.  I have more in my wallet right now… What do they think they're going to do with that – buy lunch?
As I pointed out, their latest financial report is from Q1 this year – in comparison, major countries have already released their national GDP for Q3… so they're a bit behind schedule in their filings.
Total Revenue – you guessed it… $0.
The bottom line… ATAR posted a $3,163 loss for Q1. 
Can anyone give me one good reason to buy this stock?  I think not!
Other Penny Stocks Being Pumped This Week
FBCD – BullsEyeStox received $7,000 from Level Up Industries to tout FBCD
NGHT – My Best Stock Alerts (MBSA) was paid $2,000 to promote NGHT shares
TFER – The Bull Report was paid $60,000 to pump this penny stock
A final word (and warning).
These are just a few of the potential "pump and dumps" we've seen lately.
Remember, there's a lot more of this going on than we can highlight here.
As you know, penny stocks are a great place to invest your money.  You just have to do your due diligence to stay away from all the schemes and scams out there these days!
Until next time,
Brian Walker
Category: Pump & Dump Alerts