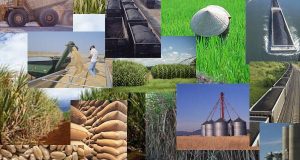 Last week, I wrote an article asking whether it was time to worry about stocks.  The topic was sparked by the recent selloff in the major indices.
However, maybe the question I should have been asking is should be worrying about commodities…
As much as the stock market has gotten hit lately, commodities have been worse.  Over the last month, crude oil is down nearly 5%, silver almost 6%, gold over 2%, copper 4%, sugar 5%, platinum 6%, and coffee 7%.
Articles are starting to pop up talking about the end of the commodity run.  Some are saying that the Fed's quantitative easing program is no longer working.  Others are saying that investors are dumping risk assets for the safety of cash and bonds.
So what gives?
Well, as always, the reality is quite a bit more complex than any one reason can explain.
Certainly, there is an element of risk aversion taking hold of the market right now.  Earnings are down.  Europe is still a mess.  And, now the election appears to be uncertain.  Keep in mind, investors hate uncertainty.
That may explain some of commodity's fall this past month.  However, there are fundamental reasons behind the drop as well.
For instance, crude oil inventories have been quite high recently.  With robust supply and tepid demand, it clearly makes sense for oil prices to drop.
The situation with metals is a bit more complex. For the moment, precious metals aren't being used as safe havens.  Bonds (and cash) have become the go to safety investments of choice.
I believe it's because precious metals are in some part tied to economic performance.  And, the economic data has actually been fairly positive lately.  As such, precious metals aren't needed as a "last resort" investment.  (In other words, a strengthening economy implies the government isn't going to default on any debt obligations.)
Here's the important part…
The Fed's recent QE program is just underway.  Not even a fraction of the anticipated bond purchases have occurred.  It's way too soon to say the program isn't working.
If and when the Fed's stimulus does start gaining traction, it should give a boost to commodities.  Not to mention, as the economy improves, demand for most commodities should increase as well.
What I'm basically saying is this is likely just another bump in the road for the commodities market – not a major turning point.  Keep in mind, commodities are often more volatile than stocks.
Bottom line, it's too soon to call the commodities bull market.  Continue paying attention to the fundamentals so you won't be caught off guard if the market turns.  And don't forget, there are plenty of opportunities to profit off commodities using small caps and penny stocks.
Yours in profit,
Gordon Lewis
Category: Commodity Stocks