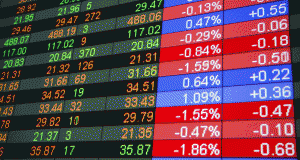 It's been a tough week for stocks.  The Dow Jones Industrial Average and the S&P 500 are both down around 3.5% during that span.  The Russell 2000 – a good indicator of small caps – has held up a little better, but it's still down 3.3% over the same period.
So what gives?  Isn't the economy getting better?
For the most part, the pullback in stocks is due to poor earnings.  More specifically, many companies are lowering forecasts for the next few quarters.
We've seen some pretty ugly results across the board… from Google (GOOG) to IBM (IBM) to Du Pont (DD).  There just hasn't been a lot to get excited about this earnings season.
But what about the economy?  Hasn't the economic data been solid lately?
In fact it has.  Housing starts, household spending, industrial production, and more have been better than expected.  Even China is showing some signs of improvement.
Moreover, after this week's Fed meeting, the central bank said the economy is seeing modest growth.  Yet, with unemployment still elevated, there are no plans to slow the robust bond buying recently begun.
Keep in mind, that's $40 billion per month in mortgage-backed security purchases.
So, in a way, we're getting the best of both worlds.  The economy is doing better and the Fed is continuing their easy money policy.
Here's the thing…
The Fed's stimulus is also a big part of the reason why stocks are pulling back this week.
You see, when the most recent QE program was announced, it gave a boost to the stock market.  With investor confidence returning, many stocks soared to overbought levels.
As such, mediocre to poor earnings served as a harsh reminder that the economy isn't out of the woods yet.  Modest economic growth is not the same as robust economic growth.
With that being said, I believe the stock selloff is overdone.  After all, most companies predicted a slowdown was coming.  There's only so much productivity and cost reductions that can be made to improve the bottom line.
At some point, revenue growth has to be a part of the equation.
Here's the good news…
I expect we'll see better than expected revenue growth this holiday season.  Retail spending has been rising… and just in time for prime shopping season.  Plus, the Fed's stimulus program is not even two months old.  It should lead to more business spending and home buying as it gains traction.
In a nutshell, I don't expect stocks to soar while earnings are disappointing.  However, the economy is improving enough that any pullback should be short-term.  And, the Fed's monetary policy should provide a floor on stock prices as well.
Yours in profit,
Gordon Lewis
Category: Investing in Penny Stocks