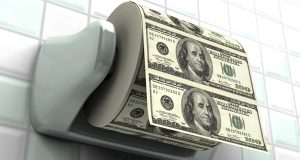 This week we're exposing these three popular Pump & Dumps:  BizRocket (BZRT), Global Resource Energy (GBEN), and Greenlite Ventures (GLTV).
That said, welcome to Pump and Dump Friday, where every week we identify a few of the potentially "bogus" promotions going on in penny stocks today.
If you don't know how these schemes work, be sure to check out this free report that exposes the whole thing.
Without further ado, here are today's "disasters waiting to happen":
***Editor's Note***  This week I'm taking the opportunity to highlight why you never hold onto pump and dump penny stocks once they lose their original "pump" value.  It's pretty ugly stuff… but I hope you take away a valuable lesson.
BizRocket (BZRT)
The first is no doubt the worst this week.  In addition, BizRocket has to be one of the worst pump and dump jobs we've ever come across here at Penny Stock Research.
Why?
I'll show you the chart first, because it will get your attention.  But it's not the only problem here…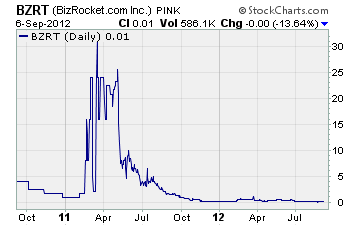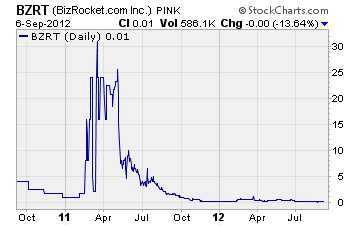 Can you believe this chart?  The company's stock was pumped up all the way to $30 before the crash cycle brought it down to virtually zero!
When we caught onto the scam, it was already pretty late in the cycle… BZRT was down near $6.15 already.  That's when we sent out our warning to subscribers.   Hopefully if they were holding shares, they sold out at anywhere near this price.
Now, if you held this sad stock all the way to the bitter end, your investment has become worthless.
But the real question is why would you bother hanging on?  My research on this company hasn't provided any indication a turnaround is in the cards.
And speaking of research, BizRocket doesn't even file with the SEC!  That means investors are on their own.  The management of this company can tell everyone what they want, when they want, about financial performance.
What they have said is pretty sad since we last visited them (in 2011).   For starters, BZRT announced in June they'd completed an 1:80 reverse stock split!  And even worse, BizRocket continues to not produce any revenue at all.  That's why they posted a loss of $38,816 in the first quarter of the year.
Let's face it, if the real Facebook stock can't make investors rich… then there's no way BZRT's "Facebook for kids" penny stock has a chance!
Global Resource Energy (GBEN)
Does this penny stock sound familiar to you?  It should… we exposed a pump and dump on GBEN back a couple of months ago in July.  It was none other than Epic Stock Picks collecting $25,000 from a company called Ti Consulting, Inc. to tout Global Resource shares.
Just yesterday, we caught Penny Stock Market Bulls picking up $30,000 to hype up shares of GBEN.
To follow along with our theme today, shares of this "pennergy" stock have simply fallen off a cliff in under eight weeks.  Take a look at the chart…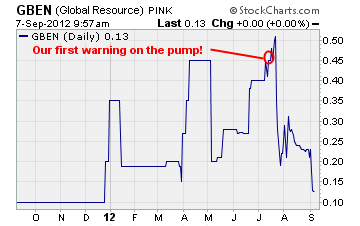 Talk about a loss.  GBEN climbed as high as $.0.50 only to come crashing down to near $0.13.  That's a loss of 75% in just a few weeks!
There's nothing going on at Global Resource that would keep a "sane" investor in this stock… no matter what the pumpers tell you this time around.
For starters, in their latest reported quarter (which is back in April of 2012), GBEN lost $77,206.  Of course, that's because they're generating no revenue whatsoever.
In addition, they list only "prepaid expenses" under assets, with no line entry for cash.  That's a major red flag… how will they pay for anything to keep them doing business?
Once again, here's proof that you should never buy into these pumped up penny stocks hoping to "strike it rich"… as the pumper's say.   At this point, you're buying a pipe dream with GBEN!
Greenlite Ventures (GLTV)
Last but not least, we have Greenlite Ventures.  And brother, do these guys know how to stink it up!  Of course, we exposed a pump and dump earlier this year.  At the time, Elite Penny Stock was paid $25,000 for their touting services.
And yet somehow, some way – the exact same pumper was paid the exact same amount to do the exact same thing!  The big difference here is the stock price…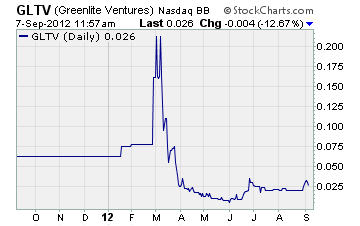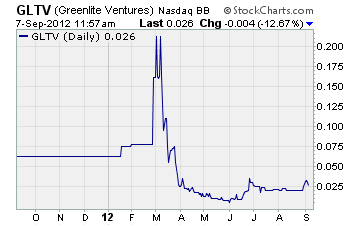 Tell me this chart doesn't look exactly like the rest… a big huge spike due to pumping, and then a massive crash to virtually zero.
What makes the latest round of pumping crazy is the stock is now worth a fraction of what it was earlier this year.  Who's going to pay $25,000 to pump a $0.02 stock?
I mean, it's not like the company is having any luck selling their "carbon offsets".  GLTV had $0 revenue back when they were being pumped, and nothing has changed in that department since. 
All that's happened is the company has managed to rack up even more accumulated debt… bringing the grand total to $846,645 as of June 30th.   And as you'd expect, Greenlite has had no choice but to burn up cash and assets, dropping total cash down to a mere $4,999.
Your final takeaway…
Just because a penny stock was successfully pumped in the past, doesn't mean the next round of pumping will do any good.  Especially once we've exposed the scam!
A final word (and warning).
These are just a few of the potential "pump and dumps" we've seen lately.
Remember, there's a lot more of this going on than we can highlight here.
As you know, penny stocks are a great place to invest your money.  You just have to do your due diligence to stay away from all the schemes and scams out there these days!
***Editor's Note***  If you're looking for the names of some legitimate penny stocks to invest in, then look no further than Robert Morris' Penny Stock Breakouts service.  he just released the names of 2 gold and silver mining stocks that are set to skyrocket as metal prices continue their upward march.  Click here for details.
Until next time,
Brian Walker
Category: Pump & Dump Alerts