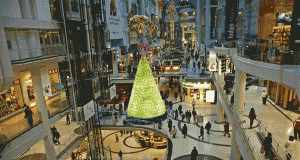 Somehow, it's already September.  Believe it or not, 2012 is actually winding down.  That means it won't be too long before we start hearing the term "holiday season" in every other sentence.
Of course, many companies are already in full-on preparation mode for the holidays.  Keep in mind, it's the time of year when most retail companies generate a lion's share of their annual revenues.
Here's the thing…
Several big players in retail are already unveiling new product lines for the holidays. 
You see, many new products get introduced around this time.  That gives consumers a chance to get excited about them.
When the products do get released, many prospective buyers are clamoring to be the first to buy.  And, that's a great way to generate buzz.
In fact, two of the world's most important retailers, Apple (AAPL) and Amazon (AMZN), are introducing significant, new products this month.
AMZN just announced the next generation of Kindle Fire products – which will be more directly competitive with the iPad.  And, at the end of the month, AAPL plans to announce their own new items, which will likely include the iPhone 5 and iPad mini.
But it's not just retail tech companies looking to generate buzz ahead of the holidays.  Clothing stores introduce new fashion lines, moviemakers start hyping their holiday blockbusters, travel and leisure companies begin offering deals on holiday getaways, etc.
So what's the big deal about using this type of hype marketing?
It's not just the mega cap companies looking for a boost.  Plenty of small cap retail companies are in the same boat – and utilize similar strategies.
Now, it may not be as newsworthy when the little guy introduces a new product in September.  However, the investment opportunities can be just as lucrative.
And that's the important part…
Often times, investors wait until closer to the holidays to start buying retail stocks.  They might be waiting to see if holiday numbers are coming in as well as expected or if the economy picks up.
But by then it's too late! 
Savvy investors get in before the big, seasonal moves occur.
Moreover, here's a little secret about consumer spending – people always spend for the holidays.
Every year, analysts claim holiday spending is going to suffer this time around – and every holiday season, people still come to the stores (and order online) in droves.  It never fails.
So, now's a great time to look up your favorite small cap or penny stock retailer – especially the ones introducing new products or running aggressive marketing campaigns.  Getting in ahead of the crowd can pay off in spades.
Yours in profit,
Gordon Lewis
Category: Investing in Penny Stocks, Retail Stocks