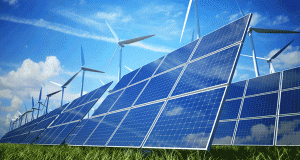 Once in a while, I like to look back on recommendations I've made in the past to see how they're doing.  One such recommendation I came across from last May seems to be doing rather well.
What did I recommend?
Buy energy stocks of course.  Here's what I wrote-
Even after an almost 20% climb off decade lows, natural gas and now the entire energy sector… are a screaming "buy".  
I made the contrast between the Select Sector SPDR Energy Fund (XLE) and the performance of the S&P 500 year-to-date.  Back on May 8th, energy stocks were trading at a low for 2012, while the S&P 500 was up by 7.5%.
I had said the disparity existed because of "supply and demand factors, and trader rationale…"
On May 8th, I recommended you buy energy stocks, particularly small cap penny stocks, to profit.  At the time, XLE was trading at $68.18.  Let's take a look at where the ETF is trading now…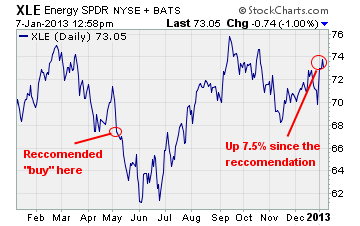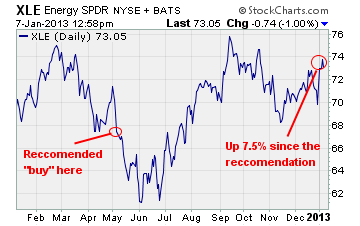 As you can see, if you invested in XLE back in May, you'd be up by roughly 7.5% on your investment.  But knowing penny stock investors, that's nowhere near a good enough return.
If you picked a previous energy penny stock we've discussed, like JinkoSolar (JKS) for example, your return would be huge by comparison.  Just take a look…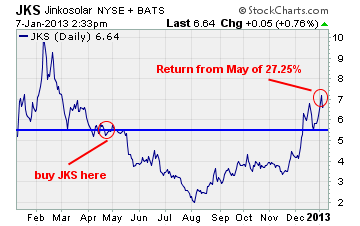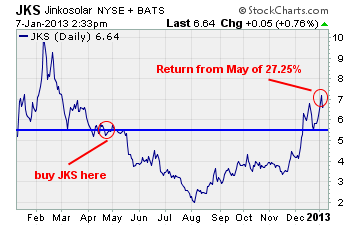 In comparison, you would have earned 20% more on your money than if you bought XLE.  The scary part is the risk involved.   You can see that both investments tanked into the summer months after my call in May.  But the drop in JKS was much bigger.
In the end, by taking more risk and buying an energy penny stock (like JKS in this example)… the return justifies the risk. That's one of the double-edged swords of buying a penny stock… you have to be willing to take on more risk to earn a greater return.
JKS is just one example among a myriad of energy penny stocks that have rallied from May of last year.  If you do your homework before investing, you can benefit from a big recovery in a beaten down sector… and penny stocks can amplify the returns.
So, will the rally in energy stocks continue in 2013?
For very valid reasons, it's a mixed picture. On one hand, if we see oil prices scream higher due to a colder winter or a pickup in economic growth, oil stocks may rally much higher from these levels.
The picture for natural gas isn't as clear. Unless we get a rather cold winter, many experts suggest that the drawdowns in natural gas supply won't be enough to keep prices at or near their current levels.
What's more, there continues to be an ample supply of natural gas coming into the system. So unless we see a pickup in natural gas demand over the next few months, prices could be heading lower from here.
Right now, there are plenty of great opportunities in energy penny stocks. But you're going to have to do your homework to find the high potential players in this space.
Until next time,
Brian Walker
Category: Energy Stocks