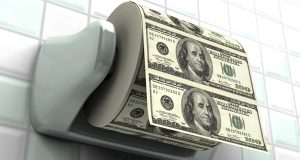 This week we're exposing these three popular Pump & Dumps:  AER Energy Resources (AERN), Mc Endeavors (MSMY), and Takedown Entertainment (TKDN).
Welcome to Pump and Dump Friday, where every week we highlight a few of the "bogus" promotions that are going on in penny stocks.
If you don't know how these scams work, be sure to check out this free report that exposes the whole thing.
Without further ado, here are this week's disasters waiting to happen:
AER Energy Resources (AERN)
Here we go again…
Don't be surprised if you recognize this company.  I wrote about it last week.  Why the replay?  Because the pumpers are really going to town on this one.
In the last week, I've received no less than 79 different emails about the company.
Now I know there are some developments and news out, but really… 79 emails!?!  I have much better things to do with my time.
Anyway, considering all the hype, I took a second look at the company… why not, right?
They still don't have anything on file with the SEC.  But they did put out a ton of press releases.  Now this is what caught my eye. 
AERN put out a press release on October 3rd, October 4th, October 5th, October 7th, October 11th, October 12th, and October 13th.
That's seven significant announcements in less than 10 days… it's a bit desperate don't you think?
Let me put this in perspective.  Apple (APPL), during a two week period, put out a total of four press releases. Keep in mind this was during the launch of the new iPhone 4s and company founder and visionary Steve Jobs dying!
Yup, that's it.  Four whole press releases.
Yet this tiny penny stock pushes out seven press releases in two week's time.  Makes you wonder how serious these announcements are.
It doesn't matter though.
With all the press and the pumper's hype, the stock climbed a little bit, but is now on its way down.  As a matter of fact, the stock's lost 30% of its value in the last seven days.
Not quite the homerun the pumpers were looking for.
Like I said, this is one stock I'd stay away from.
Mc Endeavors (MSMY)
Yet another company with another weird name… I thought this company might be selling hamburgers and competing with McDonalds (MCD) but no such luck.
Instead, this company is in the homebuilding space…
Please don't laugh, I'm serious.  They're trying to build… well, here's what they said in a report I found online:
"The current business of the Company is that of Smart-Home Builder and Self-Sustainable Community Developer utilizing green technologies such as solar, wind, and multi-fuel powered generators along with water remediation and water retention storage systems."
Sounds like something written by a lawyer.  Doesn't it?
Anyway, here's a little company trying to make its way in the worst industry, during the worst downturn, selling products nobody wants to buy.  Doesn't sound like a recipe for success does it?
Well, Green Chaser News Bulletin would beg to differ.
They say, "A lot of great stuff going on with this company!"
Once again, riveting analysis guys.
Seriously, how hard are these pumpers going to work… they're only getting paid $5,000 for their awareness campaign.
I took a quick look at the financials they put out on the internet – once again, nothing was officially filed with the SEC.  What I found bored me.
It's a company with ten grand in a checking account and a whopping $27,750 in the last quarter in consulting revenue.  They still managed to lose money too – $5,763 for the quarter.
Their $5,000 "awareness campaign" money would have been better spent trying to find some new customers.
I see no reason to spend any more time with this company…
Takedown Entertainment (TKDN)
You know, this was my favorite pumper email of the week.  OTC Reporter listed the "10 Reasons TKDN could be at an EXPLOSIVE level:"
They must have been watching a lot of Dave Letterman lately…  So in the spirit of the top ten… allow me to give my own.
10 Reasons To Stay Far Away From TKDN
1)    TKDN stock started trading in August… that's when it doubled in price… then in just under two weeks, lost over 68% of its value. This stock has pumper written all over it.
2)    The pumper says it's a ground level opportunity… ground level is right, they're about to be buried in the ground.  Their accountants gave them a going concern… that means they don't have enough money to last the year.
3)    The pumper says TKDN is part of the fastest growing sport around… yet they generated ZERO dollars in revenue last quarter… and ZERO revenue the quarter before that… and ZERO revenue the quarter before that.
4)    Don't worry… TKDN only lists liabilities of $606,966… I hope they don't want their money back any time soon.
5)    As of the last 10-Q filing, TKDN shows a whopping $1,829 in cash.  How long will less than two grand last you? 
6)    Did I mention the company is spending money like a drunken sailor on shore leave… $442,770 in the last nine months… Remember – they've got ZERO revenue.
7)    TKDN is focused on mixed martial arts sports… Crazy enough, just six months ago the company was focused on mining and exploring British Columbia for silver deposits.  Clearly the skill sets cross over.
8)    Read the footnotes… TKDN says in their own filings "…disclosure controls and procedures were not effective in providing reasonable assurance in the reliability of our corporate reporting…"  If that doesn't instill confidence, I don't know what will.
9)    The stock trades for a whopping $0.37 per share.  And despite the best efforts of our pumper, the stock continues to fall!
And finally… the number 10 reason to stay far, far, far away from TKDN… somebody paid this pumper $120,000 to hype the stock – so how can you trust anything they say?
A final word (and warning).
So that takes care of a few of this week's inglorious "pump and dumps".
Remember, there's a lot more of this going on each week than we highlight here.
As you know, penny stocks are a great place to invest your money.  You just have to do your due diligence to stay away from all the scams out there these days!
Until next time,
Brian Walker
Category: Pump & Dump Alerts