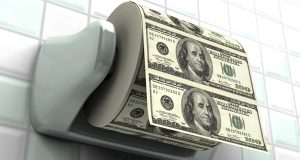 Welcome to Pump and Dump Friday, our weekly feature where we identify potentially "bogus" promotions going on in penny stocks.
Today we're exposing one of the most extensive penny stock pump and dump campaigns of the week:  Xumanii (OTCQB: XUII).
If you don't know how these schemes work, be sure to check out our free report that exposes the whole thing.
Without further ado, here is today's disaster waiting to happen:
Xumanii (OTCQB: XUII)
This week's featured pump and dump penny stock is XUII.  According to our sources, at least 11 different promoters have pumped the shares through 162 newsletters.  And more than $500,000 has been paid in May to hype the stock.
Sadly, the pump has worked like a charm.
Unsuspecting investors flooded into XUII at the first of the month on promoters' claims the stock would triple in value.  And a self-fulfilling prophecy ensued.  The stock climbed 193% from $0.15 on May 1st to a high of nearly $0.44 on May 21st.
However, these huge short-term gains were just too good for many to pass up. 
And on May 22nd, sellers began coming out in droves.  The stock opened the day 16% below the previous day's high.  And it proceeded to drop over the next few days to a low of $0.25 per share. 
That's a 43% plunge in just five trading days in case anyone's counting.  And at one point, it looked like the bottom might drop out of the stock.
But the promoters are clearly getting smarter… 
They were obviously prepared for XUII to drop like a stone at some point.  How do I know?  As soon as XUII began falling, they jumped in to support it with another email pumping barrage.   
And this time around they're promising even greater returns.  In fact, a few promoters are brazenly claiming that XUII will post gains of 1,000% or more!
So far, the promise of 10-fold gains has been just the medicine this dying stock needed.  XUII has reversed course and is moving higher again.  As I write, it's trading around $0.34 per share.
So, what's the story on Xumanii?
Based on the stock movement and promoters' claims, you'd think this company's making money hand over fist.  But that's clearly not the case.  According to the most recent annual report (fiscal year ending July 2012), the company is a "development stage corporation and [has] not yet generated or realized any revenues from [their] business operations."
What's more, since filing its annual report, the company has abandoned its original business concept and adopted a new business plan.
Until recently, the company was trying to build a business similar to Groupon's under the name Medora.  Their plan was to present a daily discount for a niche market item like a spa, restaurant, or tour outing.  The coupons were to be sent to subscribers by email.
But as I said, the company has abandoned this business plan in favor of a new one and changed its name to Xumanii.
The new business plan is to broadcast live events in HD on its website under a "pay-per-view" model.  Revenue is expected to come from consumers who pay to watch the event and from advertising, product placements, and sponsorship.
The idea certainly sounds interesting.  But at this point, it is just that… an idea.  To date, the company has generated zero sales, racked up a net loss of almost $265,000, and has negative shareholder equity of $224,000. 
And if that doesn't scare you, maybe this will… 
Management says Xumanii needs to raise nearly $1.4 million to put its new business plan into action.  That means the company is poised to significantly increase its debt load or do a dilutive stock offering.
Still not enough to set off the alarm bells in your head?
Then check out this quote from the company's annual report…
"We anticipate that we will incur substantial losses for the foreseeable future and our ability to generate any revenues in the next 12 months continues to be uncertain."
Based on all of the above, it's hard to understand how XUII deserves a share price of even a penny per share let alone 34 cents.  And if you're still not convinced, consider this… at $0.34 per share, Xumanii has a market cap of over $109 million!
Do yourself a favor and don't get sucked into this obvious pump and dump scheme.  While there's a chance you could make some money if your timing's right, a trade in XUII is much more likely to end badly for you.
Other Penny Stocks Being Pumped This Week
ENDEXX Corp. (OTCPINK: EDXC) – 60 promoters with 275 newsletters have been paid over $300,000 so far this month to hype EDXC.
ITonis (OTCPINK: ITNS) – 13 promoters with 102 newsletters have been paid over $400,000 in May to plug ITNS.
As you know, penny stocks are a great place to invest your money.  You just have to do your due diligence to stay away from all the schemes and scams out there these days!
Profitably Yours,
Robert Morris
Category: Pump & Dump Alerts