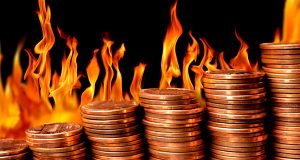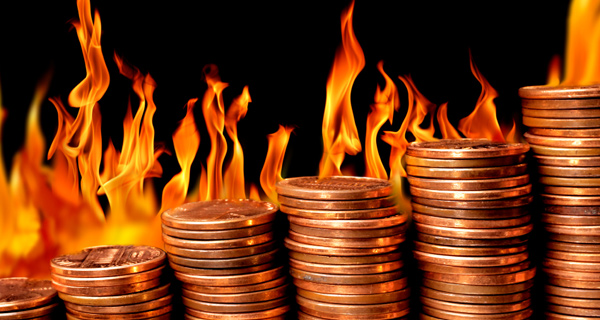 It's an exciting time for penny stocks, especially Celsion (CLSN), LightPath Technologies (LPTH), and Sonus Networks (SONS).  Let's take a closer look at these three hot penny stocks…
Celsion (NASDAQ: CLSN)
CLSN soared 71% last week!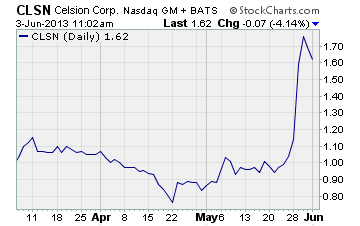 This tiny biotech is developing targeted chemotherapeutic cancer drugs based on its proprietary heat-activated liposomal technology.  Their leading drug candidate, ThermoDox, is a potential blockbuster that could one day generate billions of dollars a year in sales.  ThermoDox is currently in phase 3 clinical testing for primary liver cancer and two phase 2 trials for colorectal liver metastasis and recurrent chest wall breast cancer.
Why's the stock surging?
It's not exactly clear.  There hasn't been any good news of late.  And the last significant news item was highly negative… a report that ThermoDox had failed a phase 3 clinical trial.
However, there's plenty of speculation as to why the stock's jumping.  I've heard everything from short squeeze to good news is coming to bottom-fishing by institutional investors.
The most optimistic rumor is that Celsion's post-hoc analysis of the failed phase 3 trial data has breathed new life into ThermoDox.  The speculation is that Celsion has found large subgroups of patients that appear to have marked improvement in progression free survival and overall survival.
If true, Celsion's heat-activated liposomal technology may not necessarily be a bust.  And it could mean the biotech's leading drug candidate might still win regulatory approval.
Stocks of development stage biotechs are inherently speculative due to the difficulty of getting new drugs approved by regulators.  However, this current rally in CLSN is even more speculative than normal as it follows a failed phase 3 trial and is happening on no new public information. 
LightPath Technologies (NASDAQ: LPTH)
LightPath manufactures optical components and assemblies for the defense, medical device, industrial tool, automotive, retail, and telecom industries.  Their products include precision molded glass aspheric optics, isolators, high performance fiber-optic collimators, GRADIUM glass lenses, and other optical materials. 
Over the past week, LPTH has jumped 44%!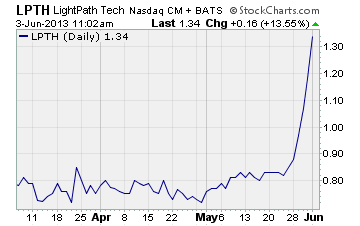 Here's why…
LightPath recently reported encouraging year-over-year trends in its third quarter financials.  The company's 12-month order backlog increased by 14% to over $5 million.  Gross margins shot up 15 percentage points to a hefty 47%.  And LightPath recorded a profit of $0.02 per share after posting a net loss of $0.05 for the year ago quarter.
But that's not all…
Management also provided a bullish outlook for the company.  CEO Jim Gaynor had this to say…
"We believe the themes of mobile internet growth, recovery of the Chinese industrial tool market and new product applications bode well for our long term growth.  Even though the overall markets are still weak and somewhat choppy, we have been able to grow our business 51% from 2009 to 2012." 
No question about it, investors are excited about LPTH.
After finishing the prior week at $0.85 per share, the stock surged to a high of $1.26 last week before closing at $1.18.  And the rally's not done yet.  This morning LPTH is up more than 13% to $1.34 per share.
Sonus Networks (NASDAQ: SONS)
Sonus provides networked solutions for communications service providers in the US, Europe, the Middle East, Africa, and Asia.  Its solutions address the need to link and leverage multi-vendor, multi-protocol communications systems and applications across customers' networks. 
Here's the thing… shares of SONS have jumped 33% in a week!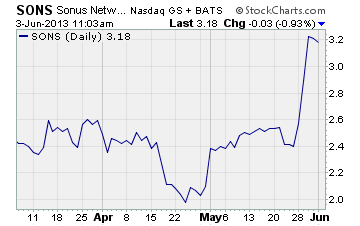 What's going on?
Sonus announced last Tuesday it has formed a potentially lucrative partnership with networking industry heavyweight, Juniper Networks (NASDAQ: JNPR).
The two companies have agreed to jointly deliver integrated solutions based on Software Defined Network principles.  Under the partnership, the two companies will integrate Sonus' session border controllers (SBCs) with Juniper's routers to help customers deal with the surge in video traffic.
What's more…
The deal comes on the heels of Sonus' strong sales of SBCs in the first quarter of 2013.  In the first three months of the year, SBC revenues increased by a whopping 77% year-over-year to $30 million. 
And according to CEO Ray Dolan, the "results reflect consistent execution and position [Sonus] for a strong year."
If that's what management believed prior to the partnership with Juniper, they must be even more bullish now.  And given the stock's big jump on the news, many investors apparently agree.
Profitably Yours,
Robert Morris
Category: Hot Penny Stocks